March 29, 2021 by
Elizabeth Quinn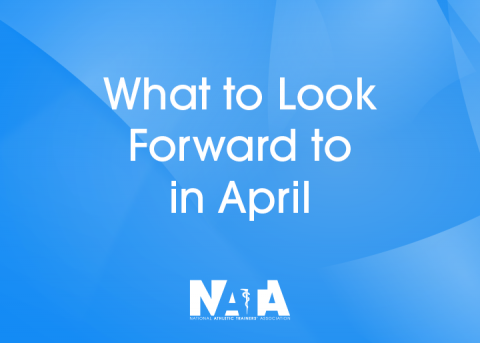 There is a lot happening at NATA! Stay up to date on what's to come each month in advocacy, engagement and development in this NATA Now blog series. Check out what else is in store for April, and follow our communication channels throughout the month for more information!
Watch the accompanying video as NATA President Tory Lindley, MA, ATC, discusses NATA's virtual conferences and other education-related opportunities taking place in April and year-round at NATA.
Advocacy
A tip from the NATA Government Affairs Department! For April, ATs are recommended to advocate for themselves and the profession by inviting their legislators to their workplace, either in person or virtually. For more advocacy tips and information, visit the NATA advocacy webpage.
In the April NATA News, the At Your Own Risk Value of the Athletic Trainer Series looks at the performing arts setting. The resource details the various patient populations ATs can provide care to within this setting, facts about ATs in this setting and details each of the five domains of athletic training.
Engagement
The monthly Built For This article series in the April NATA News features Thomas Mackowiak, PhD, ATC, who, thanks to Domain Two, helped diagnose cancer in golf athlete Elizabeth "Liz" Nagel.
The Journal of Athletic Training hosts two podcasts, AT Tapes and JATCast, that highlight articles from the Journal of Athletic Training. There will be three new episodes coming in April. Find the podcasts on Facebook, YouTube, Twitter, Apple Podcasts, Spotify, Podbean and Stitcher.

The April 5 AT Tapes podcast will discuss "Mentorship of Newly Credentialed Athletic Trainer." Lizzie Elder, PhD, LAT, ATC, will interview Stacy Walker, PhD, ATC, FNATA, about her recent JAT article, "The Role Mentoring Plays in the Transition to Practice of Newly Credentialed Athletic Trainers."
The April 14 JATCast podcast will discuss biomechanical response to external biofeedback. Shelby Baez, PhD, ATC, will summarize, "Biomechanical Response to External Biofeedback During Functional Tasks in Individuals With Chronic Ankle Instability," by Danielle Torp, MS, ATC, in under eight minutes.
The April 21 JATCast podcast will discuss health-related quality of life in former NCAA athletes. Shelby Baez, PhD, ATC, will summarize, "Health-Related Quality of Life in Former National Collegiate Athletic Association Division 1 Collegiate Athletes Compared With Noncollegiate Athletes: A Five-Year Follow Up," by Janet Simon, PhD, ATC, in under eight minutes.  
Development