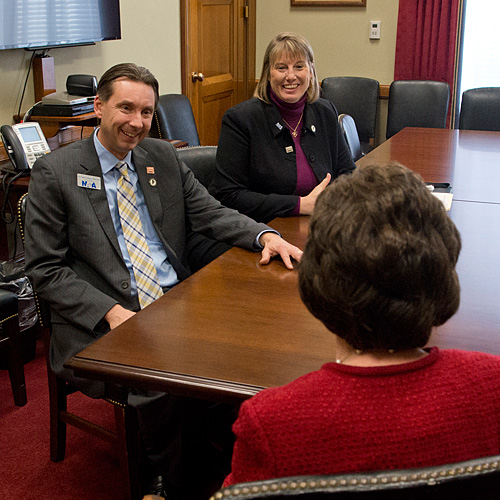 Member-only resources
Access valuable NATA member-only resources here: State Advocacy Members Only Resources. 
State Legislative Grants
NATA continues to support AT legislation on the state level, providing more than $600,000 in legislative grants to states in 2015. State legislative grants are used to support legislation related to AT regulation and youth sports safety bills that address concussion management, emergency action plans and/or heat acclimatization policies.
Learn more about NATA's legislative grant program that supports legislative efforts at the state level.
State Legislative Awards
Daniel L. Campbell Legislative Awards are given annually in two categories, Class I and Class II, to recognize state AT associations that helped achieve success in the legislative and regulatory arenas.
The William T. Griffin Award for Outstanding Leadership in Legislative Advocacy is given annually to an athletic trainer who has demonstrated leadership in legislative advocacy.
Legislative Alert Center
Please visit the NATA Legislative Alert Center to contact your state and federal legislators on issues important to the athletic training profession. Grassroots efforts with your local members of Congress are one of the most effective ways to help us gain more cosponsors for federal legislation. It only takes five minutes to learn the issues and send a letter to Congress.
Government affairs committee
The NATA Government Affairs Committee includes member volunteers working to advance athletic training regulation and legislation on the state level.
State Leadership Forum
Organized by the State Association Advisory Committee, the invitation-only State Leadership Forum is conducted annually during the NATA Clinical Symposia & AT Expo.