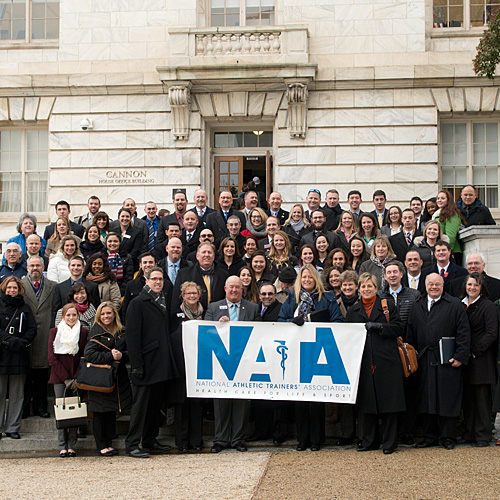 Rounding Third
June 22 – 24
74th NATA Clinical Symposia & AT Expo
NATA Connect Hall
Silent auction items include signed baseballs, bat and jerseys from MLB teams and players.
A new mechanism to raise additional budget funds for the purpose of expanding NATA's advocacy efforts. Items, events, and experiences are donated to NATA who will offer the items up for auction in various venues. Auctions are not limited to NATA members. Funds raised benefit NATA government affairs initiatives.
Trips, events and items for auction will be listed here and available starting at convention 2023 in Indianapolis!
Legislation Supported by NATA
Learn more about our current advocacy efforts to support the Sports Medicine Licensure Clarity Act.
Legislative Alert Center
Please visit the NATA Legislative Alert Center to contact your State and Federal legislators on issues important to the athletic training profession. Grassroots efforts with your local members of Congress are one of the most effective ways to help us gain more cosponsors for federal legislation. It only takes five minutes to learn the issues and send a letter to Congress.
Grassroots Toolkit
We encourage athletic trainers to contact their legislators to ask them to support our current legislation, and our Grassroots Toolkit is designed to assist you in those efforts. You'll also find tips for calling your representative and how to invite your local legislators for a site visit to see your work in action.  History has shown that these personal connections with their constituents are a driving force as legislators choose which pieces of legislation to support.
NATAPAC
The NATA Political Action Committee is the voice of the athletic training profession, seeking better working conditions, fair access and the right to practice for all athletic trainers across America. Do you want to make a difference in the future of the athletic training profession? Enter the NATAPAC site to find out how.
Capitol Hill Day
Conducted annually, Capitol Hill Day is an excellent opportunity for NATA members to advocate for the athletic training profession on Capitol Hill. Join us for NATA's biggest advocacy event of the year and help us propel athletic training to new heights.
You and Your Representative
NATA has developed video scenarios for training purposes.  These videos are designed to show you – the athletic trainer – what you might expect when meeting with your Congressional representative.
These are hypothetical situations, involving different personalities.  Please click on each video to view it.
Video #1 – "Cooperation"
A certified athletic trainer meets with her representative, who offers his support for athletic training efforts.  A roundtable discussion follows the vignette.  (15 minutes)
Video #2 – "Distraction"
When a certified athletic trainer meets with his representative, she's too distracted to focus on what he's trying to present. Roundtable discussion follows. (12 minutes)