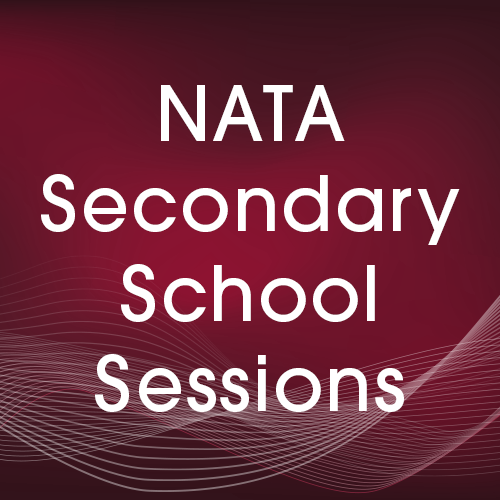 Educational Sessions*
9 to 11 a.m. CDT Wednesday, April 21: Appropriate Care for the LGTBQ+ Patient 

9 to 11 a.m. CDT Wednesday, April 28: Supporting Mental Health in Student Athletes

9 a.m. to 1 p.m. CDT Wednesday, May 5: The ATs Role in Managing COVID-19 in Secondary Schools
9 to 11 a.m. CDT Wednesday, May 12: Diversity, Equity and Inclusion in the Secondary School

Discussion Sessions
7 to 8 p.m. CDT Thursday, April 22: Appropriate Care for the LGTBQ+ Patient

7 to 8 p.m. CDT Thursday, April 29: Supporting Mental Health in Student Athletes

7 to 8 p.m. CDT Thursday, May 6: The ATs Role in Managing COVID-19 in Secondary Schools

7 to 8 p.m. CDT Thursday, May 13: Diversity, Equity and Inclusion in the Secondary School
*Sessions will be on demand within 24 hours of their schedule presentation until June 12, 2021.  You may continue to earn CEUs on-demand, or re-watch content you saw during the live sessions.
**Users will need to be logged into website to access. Nonmembers will need to create an account.

THIS EVENT WILL FEATURE:
Ability to earn up to 9 CEUs
Short segments of learning and engagement across a period of time, specifically designed to coincide with the busy work schedules of ATs in this setting
Dedicated engagement opportunities with peers designed to encourage in depth discussion on policy development and strategies for implementation
On-demand access for 30 days
The ability to consume content at your own pace
: The first 1,000 registrants to this event will receive an exclusive package from NATA sponsors
NATA is excited to announce more targeted educational opportunities for our members as we move forward. Don't miss out on this opportunity to advance your skill set, improve health and safety policies at your school and grow your professional network.
Pricing
| | | |
| --- | --- | --- |
| $105 | NATA Member Early Bird Pricing | until April 20, 2021 |
| $405 | Non-Member Early Bird Pricing | until April 20, 2021 |
| $180 | NATA Member Regular Pricing | until June 12, 2021 |
| $480 | Non-Member Regular Pricing | until June 12, 2021 |
Sponsors