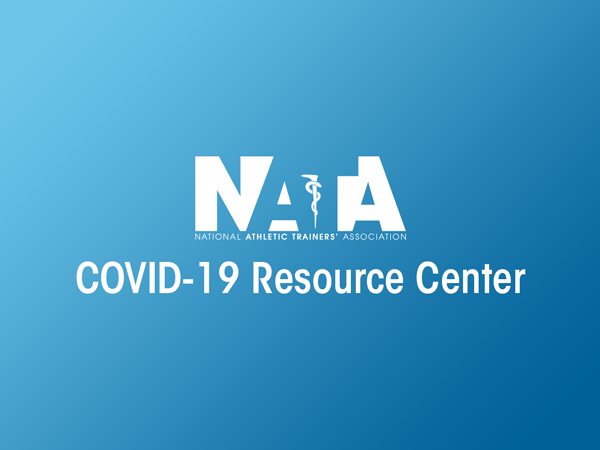 Call for ATs to Help
NATA and Go4Ellis have joined forces to connect thousands of ATs with understaffed hospitals and health care organizations across the United States. Learn more about how you can help during the COVID-19 pandemic.
COVID-19 Update for AT Educational Programs
CAATE recently issued an update, allowing that, "Programs can immediately begin to temporarily use distance learning/online learning as required by their own institution's Coronavirus guidelines/response plan." Knowing that some of your institutions have made the choice to go to distance learning for now and that this is a strain on resources, we would like to remind you that as members of NATA, you have access to 10 free contact hours' worth of on-demand content in the Professional Development Center. There are currently over 6,200 student members of NATA, and they also have access to those 10 contact hours' worth of content for free.
As a member, your credits and your student members' credits, for this year were placed on file as of early February. As an educator, you could review the content, determine if it meets your learning needs, and direct your students as to which courses to view by using their 10 free credits. Or, faculty can use their credits to purchase and show the course(s) to your students. Usage of these courses may serve, at your discretion, as a supplement to your distance education needs. For example, among the over 160 courses available where you can use credits, there is a four course Diagnostic Testing Series with focus on the ankle, knee, hip and shoulder. To access these courses and others where free credits can be used take the following steps:
Go to https://pdc.nata.org and login as a member.
Click course catalog
From the Type dropdown, select "On Demand Course"
Click Apply
Scroll through the list of available courses
To "purchase" a course using your credits, click on the course name
Click Add to cart
Go to your cart to complete the purchase
ATs in Action
As an athletic trainer, how are you impacting health care remotely or on the front lines during the COVID-19 pandemic?  Submit your stories and photos now.
NATA Statements on Coronavirus
ATs Care Support During COVID-19- NATA Now (3-23-20)
Update on the Pandemic, Opportunity to Make an Impact- NATA Now (3-23-20)
NATA Response to COVID-19- NATA Now (3-18-20)
Statement on COVID-19 Virus- NATA Now (3-6-20)
NATA BOC Exam Study Guide Available for Free During COVID-19
NATA Chats
Must be logged into Facebook to view.
NATA Chats: Telemedicine
SLC Town Hall Panel
Contact Tracing
Per the CDC site, "Contact tracing, a core disease control measure employed by local and state health department personnel for decades, is a key strategy for preventing further spread of COVID-19."*
If you are looking for ways to be helpful during the pandemic, consider contact tracing. To find positions check with your state and local health departments or with the CDC Foundation. The following articles provide further information on contract tracing and the impact it has and training required in order to fill one of these positions.   
How to Find a Job as a Contact Tracer
States Nearly Doubled Plans For Contact Tracers Since NPR Surveyed Them 10 Days Ago
*Contact Tracing : Part of a Multipronged Approach to Fight the COVID-19 Pandemic
Strategic Alliance Statements
State Leader Resources
Help educate state and local hospitals, health care organizations and local government officials to ensure that all are aware of this opportunity and how ATs are uniquely qualified to support during this pandemic.  Here are some resources that will help:
COVID-19 NATA AT Flyer (pdf)
Customizable letter for hospitals and health care organizations (docx)
Health Department Spreadsheet (xlsx)
Local Health Departments by State (docx)
COVID-19 Resources for State Leaders (pdf)
Health Care Provider Resources
Information for Healthcare Professionals- Center for Disease Control
Interim Guidance for Emergency Medical Services (EMS) Systems and 911 Public Safety Answering Points (PSAPs) for COVID-19 in the United States- Center for Disease Control
Interim U.S. Guidance for RIsk Assessment and Public Health Management of Healthcare Personnel with Potential Exposure in a Healthcare Setting to Patients with Coronavirus Disease 2019 (COVID-19)- Center for Disease Control
Interim Infection Prevention and Control Recommendations for Patients with Confirmed Coronavirus Disease 2019 (COVID-19) or Persons Under Investigation for COVID-19 in Healthcare Settings- Center for Disease Control
Interim Clinical Guidance for Management of Patients with Confirmed Coronavirus Disease 2019 (COVID-19)- Center for Disease Control
Youth Programs and Camps During the COVID-19 Pandemic
Schools During the COVID-19 Pandemic
Workplaces During the COVID-19 Pandemic
Telehealth
Medicare Telemedicine Healthcare Provider Fact Sheet
A Day in Telehealth History: Access to Telehealth Services Expanded, Requirements to Facilitate Virtual Visits Relaxed in Response to Coronavirus
Telehealth Services (pdf)
Coronavirus - Action on Telehealth (pdf)
General Telemedicine Toolkit (pdf)
Telemedicine Implementation Checklist (pdf)
Third Party Reimbursement Beyond COVID-19
Resources for Patient and Public Education  
Along with NATA, this information was developed jointly by the American Academy of Pediatrics and the American Medical Society for Sports Medicine. 
General Sports Safety Checklist During COVID-19 Pandemic (pdf)
Masks in Youth Sports (pdf)
Understanding Risk in Sport During COVID-19 Pandemic (pdf)
Committee-Created Resources
These resources have been created by NATA committee members for the purposes of assisting the general membership-at-large. While we have attempted to provide resources that are both accurate and reflective of the information available at the time of creation, NATA makes no express or implied representation or warranty as to the information contained herein. NATA and the respective authors shall not be liable nor responsible to any person or entity with respect to any loss or damage arising from its use. Athletic trainers should consult and act consistent with all applicable laws, including local and state practice acts, and other rules and policies.
Maintaining Cash Flow for Your Privately Owned Business (pdf)
Occupational ATs Work Scope (doc)
Athletic Trainers as Healthcare Providers in a Public Health Crisis (docx)
Billing and Reimbursement Guidance (pdf)
COVID-19 Resources for State Leaders (pdf)
Dancing Safe At Home (doc)
ICSM Return-To-Campus Recommendations (pdf)
Facility Document Introduction from ICSM (pdf)
Key Facts About Detraining Infographic (pdf)
Cultural Competency During COVID-19 (pdf)
COPA HCA Unemployment Staffing Guide (pdf)
Temperature Flowchart (pdf)
Virtual Clinical Education Resources (pdf)
Telehealth Guidelines for the Secondary School Athletic Trainer (pdf)
COVID-19 Return-to-Sport Considerations for Secondary School Athletic Trainers (pdf)
Considerations for Returning to Athletic Training Education (pdf)
Resources for Performing Arts Athletic Trainers During COVID-19 (pdf)
The Essential Role of the Athletic Trainer (pdf)
AT EducATionalist and WFATT Joint Webinar
"Programmatic Assessment in a Remote World: Using Technology and Evidence to Assess Student Learning and Program Effectiveness in Athletic Training and Therapy"
The program provided a brief overview of approaches to programmatic assessment, and the "assessment AS learning" approach in athletic training education contexts, and demonstrated the use of Microsoft Forms and Qualtrics for the development of valid and meaningful modules that can be used as progress tests and/or summative outcomes measures. Given the adaptations required from the COVID-19 situation, valid, online assessment modules are even more relevant and needed for programmatic assessment, and accreditation compliance.
Watch it on YouTube: https://youtu.be/yToLudBCl1U 
Or, here is a link to download it directly: https://drive.google.com/open?id=1QKkQ1AkyIXQHMMaj7dAZMdX5DhPEM8K8 
AT EducATionalist Community Shared Resources
The Leadership Cabinet of the NATA EducATionalists Community have put together a comprehensive, 150 source, database or spreadsheet of sources here (on Gather) related to AT and health professions education for all EducATionalists in the membership. Inspired by the COVID-19 quarantine and requisite move to remote learning for most, if not all AT education programs, the Cabinet wanted to provide various, quick access (mostly free) resources to help educators with:
 
Online/remote teaching and learning
COVID-19
E-curriculum
E-assessment
Higher education
Medical/health professions education
Clinical education
NATA Sources
Etc.
Other Resources
COVID-19 Unemployment Benefits
American Medical Society for Sports Medicine
Considerations for Institutes of Higher Education
Considerations for Restaurants and Bars
Considerations for Youth and Summer Camps