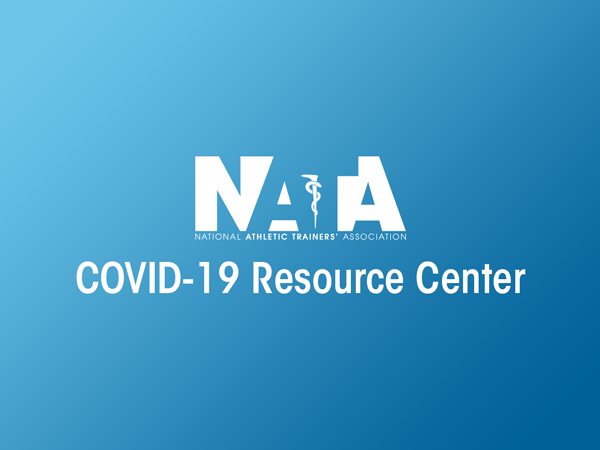 COVID-19 Update for AT Educational Programs
CAATE recently issued an update, allowing that, "Programs can immediately begin to temporarily use distance learning/online learning as required by their own institution's Coronavirus guidelines/response plan." Knowing that some of your institutions have made the choice to go to distance learning for now and that this is a strain on resources, we would like to remind you that as members of NATA, you have access to 10 free contact hours' worth of on-demand content in the Professional Development Center. There are currently over 6,200 student members of NATA, and they also have access to those 10 contact hours' worth of content for free.
As a member, your credits and your student members' credits, for this year were placed on file as of early February. As an educator, you could review the content, determine if it meets your learning needs, and direct your students as to which courses to view by using their 10 free credits. Or, faculty can use their credits to purchase and show the course(s) to your students. Usage of these courses may serve, at your discretion, as a supplement to your distance education needs. For example, among the over 160 courses available where you can use credits, there is a four course Diagnostic Testing Series with focus on the ankle, knee, hip and shoulder. To access these courses and others where free credits can be used take the following steps:
Go to https://pdc.nata.org and login as a member.
Click course catalog
From the Type dropdown, select "On Demand Course"
Click Apply
Scroll through the list of available courses
To "purchase" a course using your credits, click on the course name
Click Add to cart
Go to your cart to complete the purchase
ATs in Action
As an athletic trainer, how are you impacting health care remotely or on the front lines during the COVID-19 pandemic?  Submit your stories and photos now.
NATA Statements on Coronavirus
ATs Care Support During COVID-19- NATA Now (3-23-20)
Update on the Pandemic, Opportunity to Make an Impact- NATA Now (3-23-20)
NATA Response to COVID-19- NATA Now (3-18-20)
Statement on COVID-19 Virus- NATA Now (3-6-20)
NATA BOC Exam Study Guide Available for Free During COVID-19
Members Only Resources
As part of our ongoing commitment to our members, NATA has created and curated a collection of members-only resources to aid ATs in navigating the COVID pandemic. You must be logged in with your credentials to view the resources page.
Not a member? Find out more about joining or renewing.