In addition to offering online educational resources such as the Professional Development Center and webinars, NATA also offers several in-person opportunities for you to learn from industry experts on a wide range of topics that give you the chance to network and discuss issues while improving your skill set.
---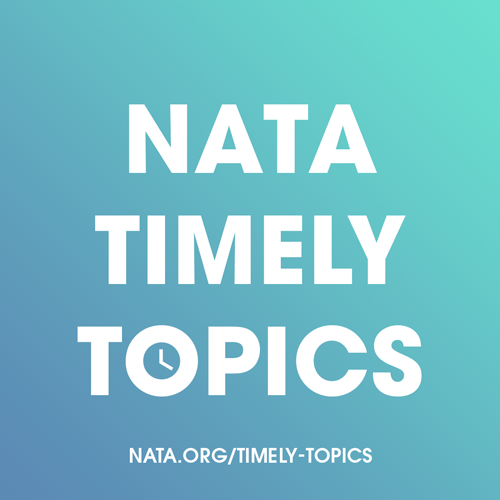 Our next event series is scheduled for January 26-28th, 2021. Registration is free for NATA members, $45 per event for Non-Members.
Topics scheduled to Be covered:
The AT and Entrepreneurship (Sponsored by: Florida International University Doctor of Athletic Training Program)
Self-Care and Work-Life Balance Strategies for the AT
Expanding the AT Toolbox: Alternative Therapies
AT Success Across the Generations
Diversity, Equity and Inclusion: There is a Difference!
To learn more and access exclusive resources related to these topics, visit the members-only NATA Timely Topics page.
---
Other Events
Convention
The NATA Clinical Symposia & AT Expo is the premier live event for athletic trainers. Our three-day convention offers important educational advances, career networking, association business and social opportunities as well as access to our AT Expo, featuring the largest exhibition of athletic training products and services in the world. Convention information.
ATEC
Every other year, the Athletic Training Educators' Conference (ATEC) is the premier event for athletic training educators. ATEC information.
Webinars
NATA webinars bring you experts, via the internet, presenting important topics in the field of athletic training and an opportunity to earn CEU credit. Most webinars run one hour and fifteen minutes and include an audio/visual presentation and time for questions. NATA webinars are open to registrants on a first come, first serve basis until maximum attendance is reached. Webinar information.
Other non-CEU earning events include Capitol Hill Day, National Athletic Training Month and Youth Sports Safety Summit. 
---
NATA EVENT PHOTOS are shared on NATA Photozone