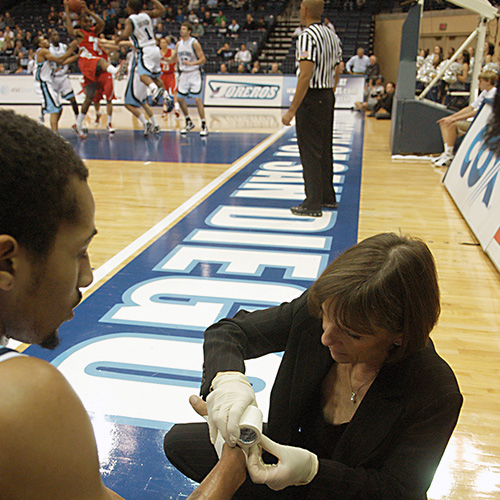 Who are athletic trainers?
Athletic trainers (ATs) are highly qualified, multi-skilled health care professionals who render service or treatment, under the direction of or in collaboration with a physician, in accordance with their education, training and the state's statutes, rules and regulations.  As a part of the health care team, services provided by athletic trainers include primary care, injury and illness prevention, wellness promotion and education, emergent care, examination and clinical diagnosis, therapeutic intervention and rehabilitation of injuries and medical conditions.  The NATA Code of Ethics states the principles of ethical behavior that should be followed in the practice of athletic training.
Athletic trainers are sometimes confused with personal trainers. There is, however, a large difference in the education, skillset, job duties and patients of an athletic trainer and a personal trainer. The athletic training academic curriculum and clinical training follows the medical model. Athletic trainers must graduate from an accredited baccalaureate or master's program, and 70% of ATs have a master's degree. Learn more about the education of athletic trainers.
If you are a current high school student and interested in athletic training, you can learn more about the profession by reading the So You Want to Become an Athletic Trainer? (pdf),  Profile of Athletic Trainers (pdf) and Who is Taking Care of Your Athletes? (pdf) infographics.
Regulation of athletic trainers
Athletic trainers are licensed or otherwise regulated in 49 states and the District of Columbia. Efforts continue to add licensure in California. 
NATA has ongoing efforts to update obsolete state practice acts that do not reflect current qualifications and practice of ATs under health care reform.
48 states and the District of Columbia require ATs to hold the Board of Certification credential of "Athletic Trainer Certified" (ATC). Learn more about the certification of athletic trainers. 
Athletic trainers are qualified to apply for a National Provider Identifier (NPI) as mid-level health care professionals. The taxonomy code for athletic trainers is 2255A2300X. 
Why use athletic trainers?
Athletic trainers provide medical services to all types of patients, not just athletes participating in sports, and can work in a variety of job settings. Athletic trainers relieve widespread and future workforce shortages in primary care support and outpatient rehab professions and provide an unparalleled continuum of care for the patients.
Athletic trainers improve functional outcomes and specialize in patient education to prevent injury and re-injury. Preventative care provided by an athletic trainer has a positive return on investment for employers. ATs are able to reduce injury and shorten rehabilitation time for their patients, which translates to lower absenteeism from work or school and reduced health care costs. 
Athletic Training Manifesto
Reimbursement of athletic training services
The Current Procedural Terminology (CPT) codes for athletic training services are: athletic training evaluation (97005) and re-evaluation (97006). These codes are part of the Physical Medicine and Rehabilitation (PMR) CPT family of codes. The American Hospital Association established Uniform Billing (UB) codes – or revenue codes – for athletic training in 1999. The term "qualified health care professional," as found in the CPT code book, is a generic term used to define the professional performing the service described by the code. The term "therapist" is not intended to denote any specific practice or specialty field within PMR.
ATs can find resources to help demonstrate their value in the Revenue and Reimbursement section.