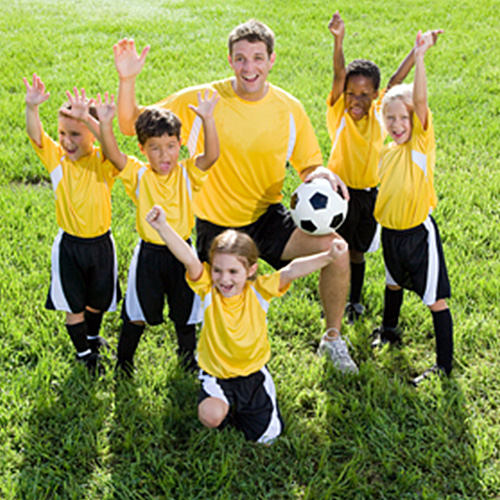 Athletic trainers (ATs) are health care professionals who collaborate with physicians in  prevention, emergency care, clinical diagnosis, therapeutic intervention and rehabilitation of injuries and illnesses.
The National Athletic Trainers' Association (NATA) is the professional membership association for certified athletic trainers and others who support the athletic training profession. Founded in 1950, the NATA has grown to more than 37,000 members worldwide today. The majority of certified athletic trainers choose to be members of the NATA – to support their profession, and to receive a broad array of membership benefits. By joining forces as a group, NATA members can accomplish more for the athletic training profession than they can individually.
Athletic trainers are licensed or otherwise regulated in 49 states; efforts continue to add licensure in California.
NATA has ongoing efforts to update obsolete state practice acts that do not reflect current qualifications and practice of ATs under health care reform.
Athletic trainers practice under the direction of physicians.
47 states require ATs to hold the Board of Certification credential of "Athletic Trainer, Certified" (ATC).
Academic curriculum and clinical training for athletic training students follows the medical model. Athletic trainers must graduate from an accredited baccalaureate or master's program; over 70 percent of ATs have a master's degree.
Who is taking care of your kids?
Nearly 7.8 million student athletes participated in sports during the 2013-2014 academic year.
In 2013, there were an estimated 1.24 million emergency room visits for injuries related to the 14 most commonly played sports in children ages 19 and uder.
According to Safe Kids Worldwide, 62% of organized sports-related injuries occur during practice.
According to the CDC, more than half of all sports injuries in children are preventable.
Why ATs?
ATs provide medical services and an unparralleled continuum of care to all types of patients, not just athletes participating in sports.
Athletic trainers are the most qualified professional to provide daily care for student athletes; they are also the most capable person to organize and direct an athletic health care system for a secondary school. Relying on coaches, administrators or volunteers to provide these types of services puts the athlete, school and its employees at risk.
ATs are in demand for their knowledge and skills in prevention and rehabilitation, as well as their proven cost savings, clinical efficiencies and positive return on investment.
Many athletic trainers work outside of athletic settings; they provide physical medicine and rehabilitation, as well as other services to people of all ages. Learn more about where ATs work.
ATs commonly work with patients with asthma, diabetes, heart disease, obesity and other health conditions to safely improve their health and fitness.
ATs specialize in patient education to prevent injury and re-injury, which reduces rehabilitative and other health care costs.
Studies show that AT services save money for employers and improve quality of life for patients; for each dollar invested in preventive care, employers gained up to a $7 return on investment.
ATs are trained to treat, prevent and address health issues (such as nutrition, brain injury and cardiac events) that impact athletes' performance. NATA supports efforts by the health care team, school administration, coaches and parents to implement suggested safety protocols to keep athletes safe.
Review our position statements for more information on these key issues.
Strategies for Funding an Athletic Trainer in Secondary Schools
In an effort to assist school administrators, athletic directors, coaches and parents in keeping young athletes safe by funding appropriate medical care NATA has developed a new resource. The document examines the worth of athletic training services, various employment models and provides strategies for raising funds to support an athletic trainer in a secondary school.
Case studies include:
A high school that demonstrates worth using CPT codes to extrapolate the cost savings an AT would bring to their school;
A legislative grant that placed ATs in 15 different schools;
A parent who wanted better for the students in her school district and fought to get an AT in each high school in her school district;
And a non-profit who helped a community in need by providing athletic trainers in their youth sports programs, middle and high schools by partnering with the community.
Download "Funding Appropriate Medical Care in Secondary Schools" (PDF)
Action Center
Legislative Alert Center
Please visit the NATA Legislative Alert Center to contact your State and Federal legislators on issues important to the athletic training profession. You can make a tremendous impact with your words, and knowledge is power. It takes about five minutes to learn the issues and send a letter to Congress.
The National Action Plan for Youth Sports Safety
The National Action Plan for Youth Sports Safety addresses leading health conditions and specifically urges schools to adopt safety measures to protect students from injury or illness that mainly occur in four major areas: cardiac events, neurologic injuries, environmental/exertional conditions, and dietary/substance-induced conditions.
Read the full National Action Plan for Youth Sports Safety.
Youth Sports Safety Alliance
The Youth Sports Safety Alliance, spearheaded in 2010 by NATA, aims to raise awareness, advance legislation and improve medical care for young athletes across the country. The Alliance is committed to improving the health and safety of young athletes.
Safe Sports School Award
The Safe Sports School Award recognizes secondary schools that take steps to keep their athletes free from injuries. The award requires sports safety actions, including that the school have a comprehensive athletic healthcare plan, promotes safe and appropriate environments, provides proper sporting equipment, develops injury intervention strategies, rehearses an emergency action plan and promotes a culture of safe play. Find out if your school qualifies. Take the Safe Sports School Quiz (pdf).