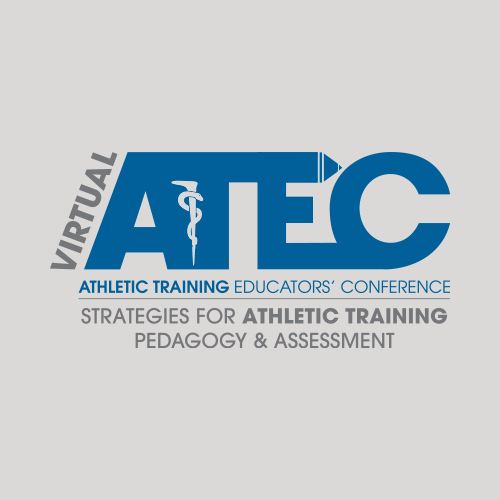 VATEC 2021
Strategies for Athletic Training Pedagogy and Assessment
April 29-May 1
On Demand Access:  May 2 – May 31
Event Features
3 live days of sessions and networking
30 days of on-demand access to educational sessions, VATEC exhibits, and peer engagement opportunities
Remarks from Sayers "Bud" Miller Distinguished Educator Award recipients
VATEC Chats
AT EducATionalists Town Hall
Registration
Registration for VATEC 2021 is now open!
Program
VATEC 2021 Program Information 
Pricing
Member Rates

Non-Member Rates

Early

Thru April 28

Regular

April 29-May 31

Early

Thru April 28

Regular

April 29-May 31

$150

$225

$450

$525
Premier Sponsor of VATEC 2021
 
ATEC Sponsor Contract 
For more information on sponsor opportunities, contact sales@nata.org
More Information
CEUS
VATEC Attendees can earn up to 12 CEUs
Cancellation Policy
VATEC 2021, including educational programming, posters, and VATEC exhibits will be available on-demand from the start of the
event on April 29 through May 31, 2021. Attendees can access sessions, view the posters, and source athletic training products and
services at their convenience for a full 30 days; therefore, NATA will not provide refunds or deferrals for this event.

Rules of Engagement
Those who take part in any NATA meeting or event, whether in-person or virtual, must treat each other with civility, courtesy and respect (both face-to-face and online), regardless of the sex, race, color, national origin, marital status, age, religion, disability, sexual orientation, occupation, line of business, or policy position of other participants.
Non-discrimination policy
NATA does not discriminate on the basis of race, color, national origin, religion, sex, disability, military status, sexual orientation or age. NATA is committed to accessibility and non-discrimination in all aspects of its continuing education activities. Participants who have special needs are encouraged to contact program organizers so that all reasonable efforts to accommodate these needs can be made.
---
Previous Events
2019 NATA Athletic Training Educators' Conference
EDUCATION DRIVING CLINICAL practice
February 15-17, 2019
Hilton DFW Lakes Executive Conference Center
Grapevine, TX
ATEC 2019 Handout Library
We asked all presenters to provide us with the handouts they wanted to share with attendees. If a handout was submitted, it is included in the library. Check back as we'll continue to add handouts as they come in – even after the meeting.
---
ATEC 2017: Innovation in Athletic Training Education
More than 530 athletic training educators attended ATEC 2017 February 17-19 at the DFW Lakes Executive Conference Center in Grapevine, Texas.  The conference theme was "Innovation in Athletic Training Education" and featured large plenary presentations, interactive breakout sessions, focused model practice presentations, peer-to-peer discussions and poster presentations.  Attendees of ATEC 2017 earned up to 9.5 CEUs. 
2017 Education Research Forum
The Education Research Forum, presented by the NATA Education Advancement Committee, was geared toward novice and existing educational researchers who wanted to continue to enhance their knowledge and skills related to educational research methodologies, scholarship and grant submission processes. More than 100 educators attended the forum to advance professional and personal practice while getting the opportunity to network and learn from experts in the field. The Education Research Forum was Feb.17, 2017 so that ATEC attendees could attend the forum prior to the start of ATEC.  Attendees of the forum earned up to 4.25 CEUs in addition to any CEUs earned at ATEC 2017.
ATEC 2015
NATA hosted its Athletic Training Educators' Conference (ATEC) Feb. 27 – March 1, 2015 in Dallas.  If you couldn't make it to ATEC 2015 be sure to check out the 2015 ATEC Program (pdf) for an overview of the programming offered.  You can also read a full transcript of the keynote speech (pdf) by NATA Hall of Famer and the dean of the College of Health at the University of Utah, Dave Perrin, PhD, ATC, FNATA.   For copies of slides relating to each session outlined in the ATEC Program file above see the ATEC Handout Library.  Photos of ATEC 2015 are shared on NATA Photozone.