April 26, 2021 by
Elizabeth Quinn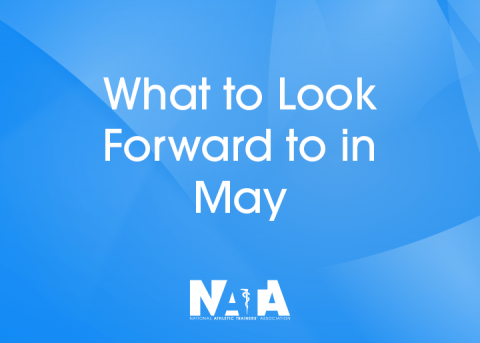 What to Look Forward to in May from National Athletic Trainers' Assn on Vimeo.
There is a lot happening at NATA! Stay up to date on what's to come each month in advocacy, engagement and development in this NATA Now blog series. Check out what else is in store for May, and follow our communication channels throughout the month for more information!
Watch the accompanying video as NATA President Tory Lindley, MA, ATC, congratulates all graduating athletic training students and encourages them to become lifelong learners.
Advocacy
A tip from the NATA Government Affairs Department: For May, ATs are recommended to participate in Fun Fact Fridays. Tweet facts about the athletic training profession to your legislators every Friday in May. For more advocacy tips and information, visit the NATA advocacy webpage.
In the May NATA News, the At Your Own Risk Value of the Athletic Trainer Series looks at the armed forces setting. The resource details the areas of impact, such as emergency care, injury prevention and rehabilitation.
Engagement
Development