October 22, 2021 by
Elizabeth Quinn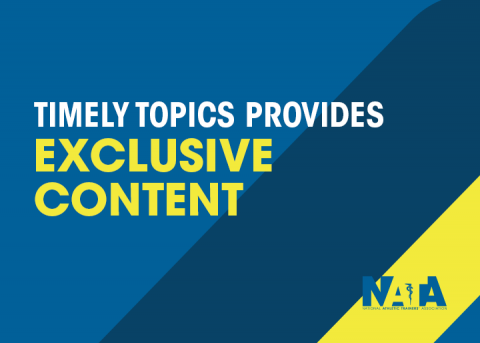 Now that member renewal season has begun, we want to share with you how your investment with NATA advances you and the profession forward.
As health care changes and expands to meet the needs of patients and uphold new standards, athletic trainers must also continuously grow and learn. To help ATs in their lifelong educational pursuits, NATA offers a range of professional growth resources, such as the NATA Career Center, the NATA Professional Development Center and NATA Timely Topics Series.
The NATA Timely Topics Series was introduced to the NATA membership in late 2020, with its first topic being "The AT and Entrepreneurship." Since then, there have been eight additional monthly topics with more to be added in the coming months.
The goal of the NATA Timely Topics Series is to provide members with an engaging, high-level introductory conversation about a hot topic in athletic training. Each series gives attendees the chance to connect in real-time to thought leaders who have anecdotal success within these areas of interest as well as access to a library of related resources.
NATA members can attend Timely Topics at no charge, while nonmembers pay $45 per event. As a member, these events provide free access to information and expertise from thought leaders.
During April's "Employment Transition and the AT," Joe Beckett, EdD, LAT, ATC, and Jessica Bennett, MS, ATC, presented the event, "Occupational Skills Considerations During Employment Transition." The content found within this event came directly from an NATA Transitional Employment Work Group's survey sent to the membership in June 2020 and December 2020, results only found through NATA.
"I learned a lot [about employment transition] from the NATA research, a lot from the membership and my own personal experience and working with various colleagues across country," said Beckett, professor and chair of the Department of Athletic Training at The College of St. Scholastica.
Using the exclusive NATA work group survey, five themes about ATs and the employment transition were discussed during the April Timely Topics series:
Individuals were employed and happy or content.
Individuals were content in their job but wanted more.
Individuals were considering transition in employment to make things better, but they weren't sure how to do it.
Individuals were unemployed or furloughed and looking to transition now.
Individuals were unemployed or furloughed and looking to leave the athletic training profession.
During the Timely Topics series, ATs were able to understand where they fall within those themes and how to continue their professional growth during the employment transition with information first found at NATA.
Beckett and Bennett also discussed the work group's subgroups – health and wellness, financial implications, clinical skills and occupational skills – and broke down the occupational skills into two areas: applying for a position and interviewing for a position. The skills and advice given about the two areas aimed to assist Timely Topics attendees to continue their professional growth regardless of where they were in their careers.
Beckett said they understand the importance of meeting ATs where they are at in their professional careers, which is why sharing this information through the NATA Timely Topics Series was a unique opportunity to give members the professional development they need to grow.
NATA is working on members' behalf to connect them to professional growth opportunities and resources. Because of the success and self-advocacy on Beckett's end, he was able to give a talk to the Missouri Athletic Trainers' Association in October on the AT and transitional employment.
The Timely Topics series gave Beckett a platform to speak and share openly about employment transition research and continue to grow professionally through other opportunities. Beckett was able to notify his network of his expertise on this topic and the benefit it can bring other ATs.
For more information on Beckett and Bennett's Timely Topics session, which discusses occupational skills considerations while transitioning employment, self-assessments of occupational skills and resources to support the AT during employment transition, visit the NATA Timely Topics Series webpage, where all Timely Topics Series videos can be found on-demand.
Renew Your NATA Membership
NATA is working every day to ensure you have the advocacy, professional growth, connection and support needed to keep athletic training essential to health care. By being an NATA member, you are investing in yourself, your profession and your future. Visit the NATA Member Benefits webpage to learn more about what comes with being an NATA member and renew your membership today. The deadline to renew is Dec. 31.
NATA is offering installment payment options. In order to utilize the installment plan to pay for your membership renewal, your first payment must be received by Oct. 31.
Don't let money get in the way of investing in yourself and your profession. Contact Member Services at 800.879.6282 or membership@nata.org to see how we can help.