October 15, 2018 by
Beth Sitzler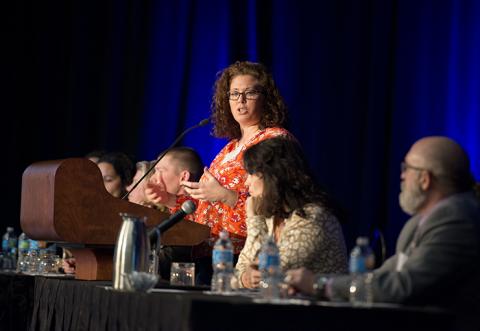 By Kim Diggs
It's registration time! Join educators from around the country for the biennial Athletic Training Educators' Conference (ATEC) Feb. 15-17 2019, in Grapevine, Texas. This is an opportunity for novice and seasoned educators alike to further explore the full scope of clinical education through lectures, workshops and showcases. There are even opportunities to earn CEUs.
This year, the theme is "Education Driving Clinical Practice." From exploring poverty and its effect on athletes to teaching inter-professional operation strategies, there are numerous topics to analyze and tools to take with you post-conference.
This conference also includes two pre-conference workshops: the Education Research Forum and the Preceptor Development Forum. Each of these workshops is designed to inspire critical thought around the basics of each subject matter. These preconference workshops will be held Feb. 15, 2019.
It is important to note that the ATEC presentations are led by educators working all over the country. State laws may differ, so you should assess your state laws before implementing strategies obtained during ATEC.
Here's what you need to know about ATEC 2019:
Location
The conference will be held at the Hilton DFW Lakes Executive Conference Center, 1800 Highway 26E, Grapevine, Texas. Each of the workshops, discussions, preconference forums and breakout sessions will be held in a conference room within the hotel. There will be staff available to point you in the right direction, should you be in need of assistance.
Preconference workshops
Though the conference is a three-day experience, packed with lectures, workshops and breakout sessions about a range of topics, there are two preconference workshops – each of which have focused, curated schedules – that take place Feb.15, 2019, before the conference officially begins. From 8 a.m. to around noon, those interested in improving teaching methods or clinical research can attend one of these two workshops.
The Preceptor Development Forum, presented by the NATA Professional Education Committee, features a series of open discussions that delves deep into teaching clinical education strategy. Methods for inspiring students to: build strong athletic trainer/athlete relationships, assess patient care capabilities within a facility and expand the scope of practice are all discussed in depth. This forum is from 8 a.m. to 12:15 p.m., and attendees can earn 4 CEUs.
The Education Research Forum, presented by NATA Education Advancement Committee, focuses on the necessary steps to take a clinical study from hypothesis to completion. Every aspect of research is explored – from identifying potential collaborators to securing a timeline and funding. This forum is from 8 a.m. to 12:05 p.m., and attendees can earn 3.75 CEUs.
Additional registration is required to attend either of these workshops. More information on registration can be found on the ATEC webpage.
Conference
The three-day convention schedule includes immersive learning workshops covering an array of topics ranging from patient communication to the psychology of injury. The full schedule can be viewed on the ATEC website.
Registration
Early bird rates will be available through Nov. 25. For those seeking to attend the Preceptor Training Workshop or the Education Research Forum, the early bird rate is $99 for members and $149 for non-members. Those attending the conference will receive a discounted rate of $270 as members or $560 as non-members when registering by Nov. 25. The admission fee for the conference includes a welcome reception, peer-to-peer events, breakout sessions, a model practice showcase, a luncheon and more. The registration deadline is Jan. 24, 2019.
Lodging
For ease of attendance, get a discounted rate on a room at Hilton DFW Lakes Executive Conference Center. If you are unable to book a room through the site because space is no longer available, there are several of hotels within a 15-minute drive of the conference center.
Food and attractions in Grapevine
The Hilton is a short drive away from restaurants, galleries, antique malls and more. Grapevine is also locally known for its wine tasting tours featuring some of the best wine that Texas Hill Country has to offer. For nightlife or a deeper look at North Texas history, take the 30 to 40 minute drive to downtown Dallas or Downtown Fort Worth. Use this North Texas directory to find a unique dining experience or attraction by city or neighborhood.