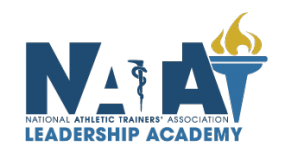 Development, training and preparation of future leaders are an important part of any association's longevity. NATA offers an online leadership course to encourage association leaders to hone their skills. The academy will grow to include various courses that focus on practical business and leadership topics, from advocacy to negotiating to conflict management.
Who: While the academy will feature one- to two-hour courses on topics related to leadership that anyone can utilize for a fee, it's initial offering is the Leadership Development Certificate—a 12- to 24-month certificate program targeted to NATA members who are interested in pursuing leadership at the state, district or national level. The Leadership Development Certificate application is open to all NATA members who are and remain in good standing, have a National Provider Identifier and who attain their state and district leadership's approval. Young professionals are especially encouraged to participate as this will help set them on a path to leadership within the profession. Complete the Leadership Development Enrollment Application to apply (pdf).
When: Program launches January 2017
How: Leadership Development Scholars, as participants will be known, must complete four modules before they earn the status of NATA Leadership Development Graduate. Through the different modules, Leadership Development Scholars will reflect on their personal leadership practices and association perspectives to recognize their impact and influence on organization effectiveness; understand, implement and evaluate strategic practices based on various theories, models and approaches; and analyze and evaluate the role of a strategic leader. Each module will consist of books, articles and visual learning, such as videos.
Modules:
Vision
Communication
Collaboration
Strategic Thinking
Frequently Asked Questions
What is the purpose of the NATA Leadership Academy? The NATA Leadership Academy was developed to encourage emerging and advanced association leaders to hone their skills. The academy will offer certificates that provide structured, systematic educational and training experiences. The academy will also offer short on-demand courses that assist users in honing their skills in specific areas of interest. 

Are there any CEUs for Academy programs? CEUs are available for a few of the videos in the NATA Leadership Development Certificate (LDC) and will be availble for most of the On-Demand courses.

Who is eligible to participate in the Leadership certificate? LDC is only open to NATA members who are and remain in good standing, have a NPI number and who attain their state and district leadership's approval. View the certificate application requirements for more specific information.

How long does the LDC program take? The LDC is recommended to be completed in 12 - 24 months. 

What is the cost for the LDC? There is no cost to enroll in the LDC, however each module may require the purchase of 1-2 books or other resources. The estimated cost of materials for the entire certificate is approximately $100. The required resources were chosen with an eye to cost and availability. Many are free, available online or developed by staff while others should be available at municipal libraries.

Does the LDC content have to be completed in the order in which it's presented? Yes. The requirements are grouped together by relevance.

Is there an assessment? The LDC has a non-graded assessment at the end of each module that must be completed before starting the next module.  

What happens when I complete the LDC requirements? Athletic trainers who complete all modules will be recognized by NATA with a Certificate of Leadership. Names of program graduates will be provided to the district and state associations to be considered for leadership roles.

What if I'm already enrolled in StarTracks? Current StarTRACKS legacy scholars will have until December 2017 to complete the program and earn their StarTracks certificate. The StarTracks program is highly rated by those who have completed it and we highly encourage those currently enrolled to complete the program.

Who is eligible to purchase an On-Demand course? Graduates of StarTRACKS can use the On-Demand courses as leadership development opportunities to enhance their certificate experience. For those who may not be ready to delve into a certificate, these leadership on-demand courses are a great way to begin your leadership training.  In need of a refresher? Try the on-demand courses for a deeper dive in specific areas for specialized content learning. There is something for everyone.          
Contact Knowledge Initiatives with any questions.