June 15, 2022 by
Lydia Hicks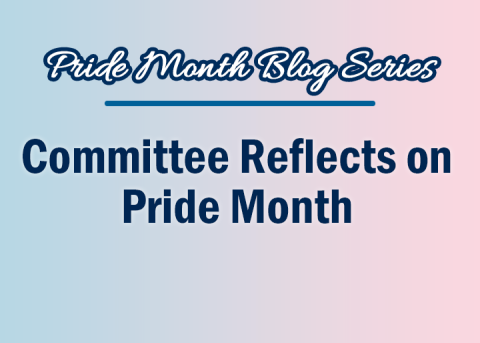 By NATA LGBTQ+ Advisory Committee Incoming Chair Jennifer Sturtevant, MBA, LAT, ATC and NATA LGBTQ+ Advisory Committee Outgoing Chair Rebecca Lopez, PhD, LAT, ATC
To commemorate Pride Month throughout June, the NATA Now blog will share a variety of topics to support our members' efforts to provide compassionate and culturally competent patient care to all.
 
Pride Month is a time for celebration and looking ahead to a future where every LGBTQIA+ person can be who they are, uninhibited. Pride Month reminds us to be grateful for those who paved the way to achieve equality and opportunity for the LGBTQIA+ community. We can also use this time to reflect and recognize how far we have come as a profession.
The NATA LGBTQ+ Advisory Committee came to fruition because of the persistence of three students who recognized that there was a void and lack of support within our profession. LGBTQIA+ members didn't have a voice within the athletic training profession, and there was a lack of resources available to guide athletic trainers on how to provide inclusive patient-centered care. A task force was formed in 2017 under the leadership of Patricia Aronson, PhD, LAT, ATC, and became a recognized NATA committee in 2018. Up until this task force was created, there was little to no education or resources within NATA regarding the LGBTQIA+ community. Passion and persistence paid off, and in only five short years, the impact felt throughout NATA and its membership is palpable.
Although we celebrate Pride during the month of June, the efforts to improve the care we provide to our LGBTQIA+ patients, as well as showing how much our LGBTQIA+ colleagues are valued, are present throughout the year. As a committee, we are committed to addressing the stigma and discrimination that LGBTQIA+ people face and focus our efforts on achieving a healthier future for all people. Our work is a direct reflection of our mission:
Advancement of diversity within the athletic training profession:

We continue to encourage the development of district and state LGBTQIA+ committees or work groups, allowing more access to volunteer opportunities.
Our annual town hall event during the NATA convention provides a space for ATs to learn more about our committee, network with each other and have open and honest conversations.

Advocating for an environment of inclusion, respect, equity and appreciation of differences in both athletic trainers and their diverse patient populations:
Identify, explore, address and provide educational resources regarding emerging topics and concerns relevant to diverse sexualities, gender identities and gender expressions within the profession and health care topics affecting patients in the LGBTQIA+ community:
During this year's Pride Month, we encourage athletic trainers to reflect on a few things. First, Pride Month should include a celebration of the progress of the LGBTQIA+ community within athletic training. Secondly, let's take the time to reflect on what we can do, within our settings, to create a more inclusive and welcoming environment. Examine your policies and procedures, update documentation and forms, and seek out ways to increase your knowledge on how to best care for your LGBTQIA+ patients. A great starting point, if you're looking for resources or ways to be involved, would be to reach out to your district representative and visit the Inclusion Resources webpage. We are here to represent and be a voice for our members. Connect with us through Twitter, Facebook and Instagram and stay up to date on what's happening by subscribing to our quarterly newsletter. Lastly, self-reflect on how you can improve and be the best ally and advocate for all patients and, ultimately, each other.