December 17, 2019 by
Elizabeth Quinn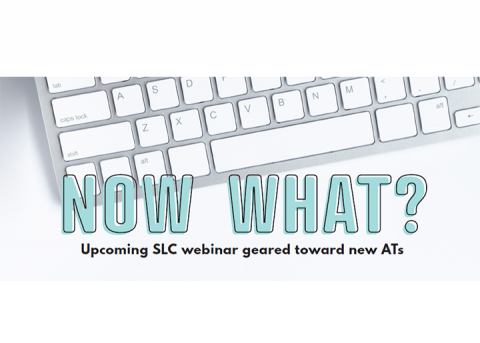 Transitioning from a student to a working professional can be scary and overwhelming, but thankfully, Karen Lew Feirman, DHSc, LAT, ATC, is here to help guide students through the intimidating process.
On Jan. 22, Lew Feirman will be presenting a webinar titled "The Ins and Outs of Transition to Practice – from Student to Certified" hosted by the NATA Student Leadership Committee (SLC). This webinar will help guide students who are moving into the professional world of athletic training and make this process more manageable. Lew Feirman will share tips and tricks to help students maintain a successful and fulfilling career.
The webinar will touch on important and necessary topics, such as state licensure, CPR certification, professional liability policies and more. Lew Feirman will also share her wisdom about continuing education opportunities and the requirements for maintaining different certifications.
Another area of discussion will be about the importance of becoming involved within NATA as well as maintaining your membership. Being involved and networking with other athletic training professionals and those who support the profession can help lead students to many amazing opportunities throughout their professional career.
Not sure about joining the webinar?  Here is a little bit more about Lew Feirman:  She is the vice president of Varsity University and Varsity Camp Administration and serves as the Director of Safety for Varsity Spirit. She is an adjunct faculty member at the University of West Florida and currently serves on the USA Cheer Medical Advisory Committee specializing in injury and illness prevention for cheerleading and dancers. In Nov. 2013, she was appointed the Director of Safety for USA Cheer. Lew Feirman has given numerous presentations at state, district and national meetings.

"Dr. Lew Feirman is uniquely suited to educate on the topic of transition to practice," said Midge Peterson, chair of the SLC. "She holds a Master of Education degree in human performance, with an emphasis in exercise science, and a Doctor of Health Science degree. She has also been honored with NATA's Athletic Trainer Service Award. Serving the athletic training profession and those in it is her passion."

Convinced yet? The SLC will host "The Ins and Outs of Transition to Practice – From Student to Certified" on Jan. 22 at noon Central Standard Time. For more information and details about attending this webinar, please visit the student resource page.
As always, should there be any questions, please feel free to reach out to your district's SLC Representative or visit the Student Professional Interest page. Also make sure to follow the SLC on social media: Facebook, Twitter and Instagram. To chat with a current SLC member, reach out to them on social media or at slcoutreachcom@gmail.com.