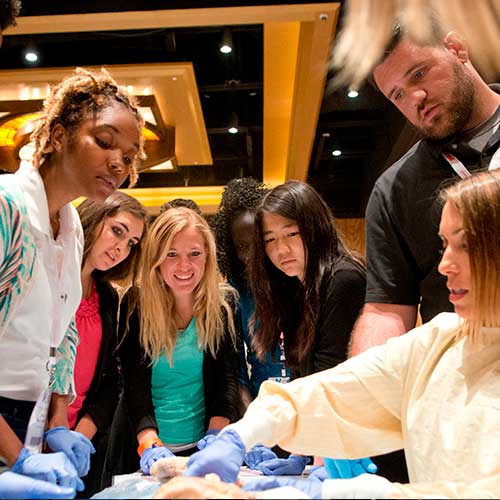 Transition to Practice Webinar Held Jan. 22
Karen Lew Feirman, DHSc, LAT, ATC will present the webinar, "The Ins and Outs of Transition to Practice – From Student to Certified" at noon CST Jan. 22, hosted by the NATA Student Leadership Committee. Transitioning from a student to a working professional can be scary and overwhelming, butLew Feirman is here to guide you through the intimidating process. Throughout this presentation, a variety of important topics, including state licensure and professional liability, will be discussed along with strategies to help you reach your goals as a working professional. The SLC invites all athletic training students, AT clubs and educational programs to attend this informative webinar. Tune in Jan. 22!
NATM Video Contest Opens Jan. 27
As part of National Athletic Training Month in March, the NATA Student Leadership Committee will once again hold its annual video contest. Students will have the opportunity to get creative and promote the profession of athletic training by capturing the heart of the profession on film. This contest is open to any entry-level athletic training student. The contest is open Jan. 27-March 22. The winning video will be selected by March 31 and honored during the 71st NATA Clinical Symposia & AT Expo. Stay tuned on 2020's NATM theme! Learn more about the Student Leadership Committee NATM Video Contest as well as other NATM resources offered by NATA.
Chuck Kimmel First-Time Attendee Award Applications Due by April 15
To help more students attend the NATA Clinical Symposia & AT Expo, the NATA Student Leadership Committee is now offering the Chuck Kimmel First-Time Attendee Award. This award will provide a total of $2,000 in award money to two to four athletic training students who have never attended the annual convention. Chuck Kimmel First-Time Attendee Award applications are accepted between Feb. 15 and April 15.
Student Leadership Committee NPI Contest Opens March 1
As part of National Athletic Training Month in March, the NATA Student Leadership Committee is asking students to take their involvement in NATM one step further by participating in a nationwide contest to encourage students to obtain a National Provider Identifier (NPI). This March, each athletic training education program should submit a list of students with their respective NPI by March 31. (International students should not be included.) The SLC has created a Google form to assist in this process. At the end of the contest, the program with the highest percentage of students compliance will win a $100 gift card. If there are multiple programs with 100 percent compliance, each program will be entered into a random drawing to select the winning program. Learn more about the Student Leadership Committee NPI Contest.
 
Bobby Gunn Student Leadership Award
The Bobby Gunn Student Leadership Award was established to recognize one of the true pioneers in athletic training -- and to give deserving students assistance in attending the NATA Convention.
 
NATA Research & Education Foundation Scholarships
The NATA Foundation Scholarship Program, which is managed by the Scholarship Committee, awards undergraduate, master's and doctoral scholarships. The number of scholarships varies annually (from 50 to 75), with the amount of the award currently $2,300 per scholarship. Scholarship funding is secured through a variety of sources, including the organization's endowment program, as well as through corporate and individual support. Scholarship recipients are recognized during the Pinky Newell Scholarship & Student Leadership Reception at the NATA convention.
 
NATA Foundation Student Writing Contest
The NATA Foundation Athletic Training Student Writing Contest (SWC) is named for Deloss Brubaker, who chaired the contest for its first 30 years. The contest recognizes early research-related projects from emerging investigators at the professional level.  Athletic training students enrolled in professional (undergraduate or entry level masters) athletic training programs are eligible to participate. . The annual competition includes three categories, with an award being given to the top submission in each:
Best Original Research Paper ($500)

Case Study ($250)

Best Literature Review ($250)
'Putting on Your Oxygen Mask Before Helping Others' Webinar
The webinar "Putting On Your Oxygen Mask Before Helping Others: From Wanting Life-Work Balance to Living Life-Work Balance," presented by Kenneth Games, PhD, LAT, ATC, examines how being selfish is needed in order to be selfless. Games discusses ways in which someone can shift their perception of work-life balance from a "goal" to a "way of life."
'When Boundaries Blur' Webinar
The "When the Boundaries Blur" webinar, presented by Michael Goldenberg, MS, ATC, examines how secondary school administrators and clinical managers might handle a situation in which an athletic trainer comes forward and admits to having feelings for a student and, likewise, when an athletic trainer senses that a student has feelings for him/her. Goldenberg also investigate some of the factors that might cause someone to cross that boundary, as well as some of the warning signs associated with this situation. You can read more about the webinar in the November NATA News.
'Cover Letters, Résumés, References' Webinar
To help students put their best foot forward and guide them as they apply for internships, job positions and educational programs, the NATA Student Leadership Committee presents the "Cover Letters, Résumés, References: Setting Yourself Up for Success" webinar by District One Director Tim Weston, MEd, ATC. This is a great opportunity to learn the ins and outs of what employers look for when evaluating prospective job candidates from an athletic training profession leader.
Education After Graduation: What's Next?
The Educational Pathways Document, created by a work group comprised of members of the NATA Executive Committee for Education and NATA Post-Professional Education Committee, breaks down each educational possibility available after an athletic trainer earns his/her bachelor's or master's degree and becomes certified. In addition to outlining what comes next for AT students after graduation and certification,  the document also explains the differences between each option (ie: fellowship vs. residency) and offers additional resources and considerations. The Educational Pathways document is designed to be a living document and will be updated as new resources and information become available.
CAATE Accredited Educational Programs
The Commission on Accreditation of Athletic Training Education (CAATE) is responsible for evaluating three different types of educational programs in athletic training: Professional Programs, Post-Professional Degree Programs and Post-Professional Residency Programs. The CAATE website offers a tool that allows you to search all of the accredited programs at each level. 
NATA Quiz Bowl
The NATA Quiz Bowl is an annual competition that takes place at the NATA convention. The event features ten teams, one representing each district, competing in a Jeopardy style format. Questions range from athletic training history to medical diagnoses.
View and purchase more photos from the 2018 Quiz Bowl at NATA PhotoZone.
 Quiz Bowl Winners

2019
Dakota Wesleyan University
Presentation College
South Dakota State University
Chapman University
Sandra Godinez
Tyler King
Nicole Natsumi Nootbaar
University of Texas at Arlington
Hillary Avila
Adam Greer
Ryan Kacvinsky
Washington State University
Ricky Ayala
Alee Bryan
Elias Whitefoot
University of LaVerne
Hope Allen
Nysa Allen
Anastacia Fraijo
California Baptist University
Corrie Bober
Kelsie Gartner
Naclaysia McGee
University of Wisconsin-Oshkosh
Steven Klein
Evan Schmidt
Dalton Venden
Keene State College
Northeastern University
Nicole Curry
Gretchen Dressel
University of Nevada, Las Vegas
Cody Bremner
Shun Jinnouchi
Christine Samson