January 30, 2020 by
Elizabeth Quinn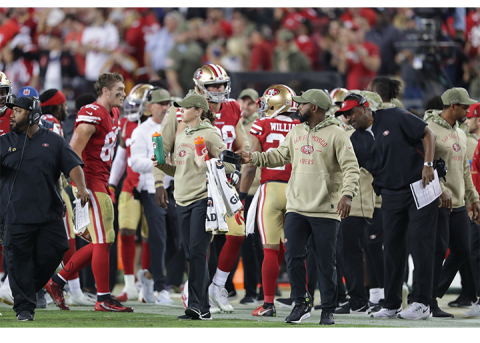 The Super Bowl: It's a high stakes game with pressure on both sides. After a nearly five-month season, Super Bowl LIV is upon us as the Kansas City Chiefs take on the San Francisco 49ers Feb. 2 in Miami.
"Every player, coach and staff member has worked incredibly hard to get to this game," said 49ers assistant athletic trainer Laura McCabe, LAT, ATC. "I'm most excited about our players and staff having an opportunity to showcase their hard work and talent. We were fortunate to host Super Bowl 50 at Levi's Stadium in 2015, which was a great experience for our organization. Being at the game definitely solidified how much I wanted to participate in the Super Bowl at some point in my career."
"As an athletic trainer you have to be prepared for anything to happen essentially at any time," said Chiefs assistant athletic trainer Julie Frymyer, DPT, MS, ATC. "Every one of our staff members has an integral role in operations to ensure we are able to function at a high level, seamlessly for our athletes. Health care and what we do as athletic trainers is important every single day – that doesn't change. Continuing to stick to the process that got you there will ensure you are prepared and buttoned up as a staff."
As someone who has been in the shoes of a Super Bowl athletic trainer before, Reggie Scott, MS, ATC, PES, director of sports medicine and performance for the Los Angeles Rams, shared his insight, experiences and advice from being an AT during 2019's Super Bowl LIII.
"I think the best way to put [being in the Super Bowl is] a load of emotions," Scott said. "I wasn't nervous because I was so caught up in the moment. I was trying to do everything I could to try and get the players prepared. Believe it or not, I treated it like another game. When you experience it, you realize how big of an event it is and how fortunate you are to be there."
To make it to this level is a huge achievement for any AT. It's also intimidating considering the Super Bowl is the biggest sporting and television event in the U.S. with more than 100 million viewers tuning in. So how does this affect the care provided by the medical staff?
The health care procedures and processes don't change during the game as ATs always follow best practices, Scott said; however, how athletic trainers handle players might need to be adjusted as they are often eager to stay in the game. ATs need to be respectful and manage the player's expectations.
"It's hard if they miss that game or a quarter, so ATs need to be able to talk to them and comfort them if an injury occurs," Scott said.
While to his knowledge, Scott has never been booed for pulling a player out of the game, he said ATs shouldn't let potential outside factors dictate the quality care they provide a patient.
"I was preparing [for the Super Bowl like it was] another game," Scott said. "You can't let that Jumbotron change how you operate. We needed to operate the same way we always do in terms of all the policies and procedures we had in place. Just treat it like another game, even though it might feel heightened. … We needed to stay in tune with the job to give optimal health care."
For the athletic trainers who find themselves in the Super Bowl, or a similar high-stress situation, Scott has some advice.
"One thing I love about athletic training is the way we are trained and are able to handle high stakes situations," Scott said. "We trust who we are and don't let outside things dictate how we care for the athletes. If you're in a situation like this, trust what you've learned and done.
"Try to slow it down and enjoy the moment. After going to the Super Bowl, I really, really appreciate the game and it puts in perspective how hard it is to get there and how fortunate we were. So slow down, and enjoy every second because you're not promised that moment tomorrow."
Read more about Scott's experience getting ready for the Super Bowl in 2019 on the NATA Now blog.  
In addition, be sure to read the NATA Now blog in March to learn more about the women ATs who provided care during this year's Super Bowl. For the first time in Super Bowl history, there will be three female athletic trainers present: Julie Frymyer, DPT, MS, ATC, and Tiffany Morton, MS, LAT, ATC, with the Chiefs and Laura A. McCabe, LAT, ATC, with the 49ers.
Congratulations and good luck to our NATA members and ATs in this year's Super Bowl.