February 1, 2019 by
Beth Sitzler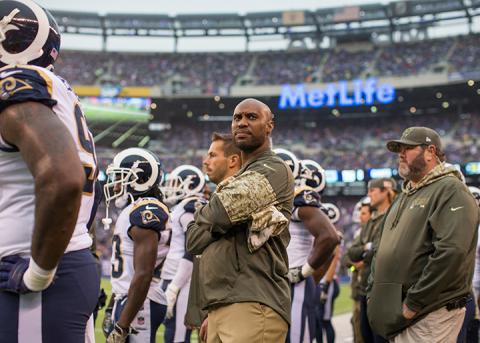 The Super Bowl is arguably the most important game in football. While strength, strategy and player skillsets are important in reaching the height of their profession, none of it is possible without a healthy team.  
NATA had the pleasure of speaking with the Director of Sports Medicine and Performance for the Los Angeles Rams and National Athletic Trainers' Association member, Reggie Scott, MS, ATC, PES, and he shared with us some key things his team does to keep the Rams players healthy and physically ready to compete.
1) Have the Right Foundation of People on Your Team. Create a sports medicine team that contains people who aren't only great at their jobs, but also have the critical passion for being a caregiver. "You need to be implementing the right programs but you need the right team in place to do it," Scott said.
2) Mindset and Culture. Culture at the Rams has started with head coach Sean McVay. He has implemented a "we, not me" vision, which the sports medicine team has adapted to mean "athlete-centric." They work together and always put the athlete first. There is no room for ego – they are always working toward the common good, which is a healthy and ready-to-compete team.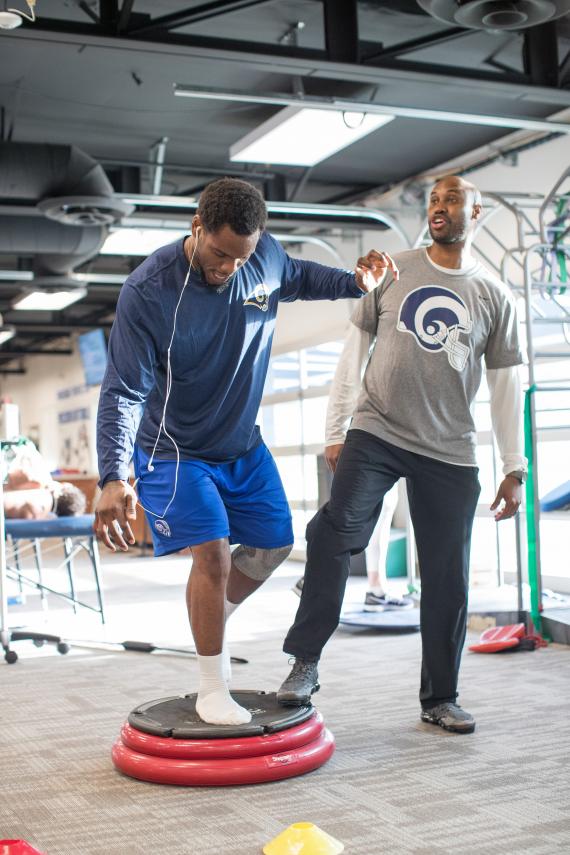 3) Work Together for Synergy of Care. Scott compares his sports medicine facility to a small hospital, and they see themselves as health care providers first. They have everything in place to address everything from upper respiratory infections to diet to rehabilitating an ACL injury. Whether a player is visiting the sports medicine, nutrition, player engagement and mental health or even strength and conditioning departments, all teams have one voice, one philosophy and are all on the same page with their sole focus on trying to optimize the player's care.
4) Teach the Why to Get the Buy-in. Health care and sports medicine can be a foreign subject for athletes who don't know a lot about it, especially the preventative side. Just because they are athletes doesn't mean they are experts on how their body work. Scott's team strives to push the why and educate the player so they can buy into what is being asked of them to do. "You can have the best model you want, [but] if the players don't buy in, then it's not going to be successful," Scott said.
5) Continuum of Care While on the Road. Being on the road and 2,100-plus miles away from the Rams' athletic training facility poses some unique challenges. Scott's team made sure that everything from a toothache to gastrointestinal issues as well as pre- and post-practice recovery and injury prevention and rehabilitation is set up to be as close to their home facility as possible. What [it] took to implement that was having a truck that left last week and drove across country with as much equipment and goods as possible. They set up an athletic training facility in their Atlanta-based hotel. They also set up a pre- and post-practice area at the Falcons practice facility.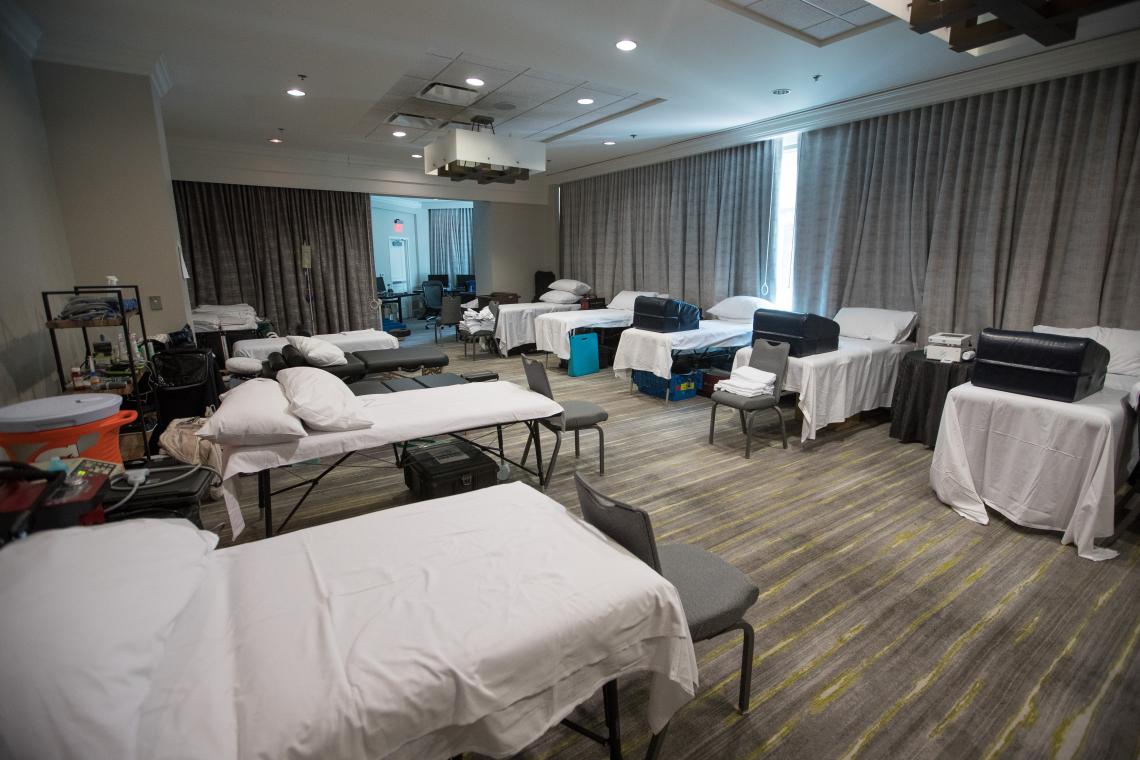 6) Preparation for the Super Bowl Starts Before the Season Starts. Starting in April, the sports medicine team starts preparation for the season with the mindset focused on making sure they do their part to get players ready for the Super Bowl, even before the season starts. "Health isn't just two weeks, it's a cumulative effort throughout the season," Scott said.
7) Have a Voice at the Table When Talking About Workload Management. Scott said he makes sure athletic trainers and sports medicine professionals' voices are represented at the table when talking about workload management, or, in other terms, how often and how intensely the athlete practices. The coaching staff focuses on the tactical side of the game and the sports medicine team is preparing the body to play. These goals, at times, can be contradictory, so it's important to be able to advocate for the best route that keeps players healthy as well as be at their optimal readiness.
8) Sleep as a Critical Component to Recovery. You never can replace sleep. The body best repairs itself during sleep, which also affects the mental component. "Make sure that the players are set up for successful sleep – help them get more quality sleep, and assess for potential sleep issues such as sleep apnea which can have a huge impact," Scott said. Educating players why sleep is important can be powerful. Additionally, while in Atlanta, the players adjusted their sleep based on the practices they had scheduled as well as the change in time zone.
9) Build Trust With Players. Being in the athletic training facility can be a vulnerable place. Players' bodies are a major part of their career and "when they walk into your room, you need to have a relationship with that player as well as be at the top of your game. Couple that with successful outcomes so they trust that you will take care of them," Scott said.
10) Recognize Mental Health as a Part of the Physical. Scott has three words on his wall: "Mind. Body. Spirit." The rehabilitation process requires all three in concert. "If we aren't challenging and nourishing the mind and spirit, we can't expect the body to fully do its job," he said. One way he does this is ensures his staff always have a smile on their faces and are excited to get down to work with the players. His athletic training facility is nicknamed "The Barbershop." When open, a barbershop pole –  a gift to Scott from receiver Cooper Kupp – is lit up and starts to spin so players know it's not only time to get to work, but that it will also be a lively and positive atmosphere, where they will feel better going out than when then came in.
You can see Scott and his team in action during Super Bowl VIII Sunday, Feb. 3, when the Los Angeles Rams take on the New England Patriots.
Share this story on social media with the hashtag #ATimpact.