June 14, 2021 by
Elizabeth Quinn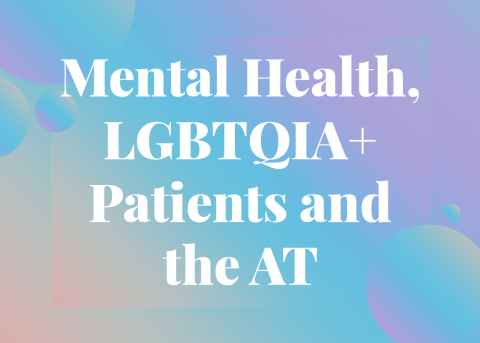 In honor of Pride Month, throughout June the NATA Now blog will highlight NATA's LGBTQIA+ resources to assist members in their pursuit of providing compassionate, culturally competent patient care to all.
According to Mental Health America, 5.8 million people who identify as lesbian, gay or bisexual reported having a mental illness within the past year. Additionally, LGBTQIA+ teens are six times more likely to experience symptoms of depression than their non-LGBTQIA+ peers, and are two times more likely to feel suicidal and four times more likely to attempt suicide.
With this in mind, it is imperative that athletic trainers are cognizant and up to date on how to interact with LGBTQIA+ patients in a positive, reaffirming way. NATA offers resources for ATs to assist them in providing compassionate care to all patients.
During May 2020's mental health NATA Now blog series, NATA LGBTQ+ Advisory Committee members Lorin Cartwright, MS, ATC, CAA, Timothy Neal, MS, AT, ATC, and Sean Rogers, DAT, ATC, wrote a blog titled "Minority Stress and LGBTQ+ Patients' Mental Health." The blog covers mental health considerations of LGBTQ+ individuals, creating an inclusive environment and mental health referral levels.
Also during May 2020's mental health NATA Now blog series, Ami Adams, MS, ATC, CES, NATA LGBTQ+ Advisory Committee member, wrote a blog titled "Apps for Mental Health." Within the blog, Adams lists 10 apps ATs can suggest to patients who aren't close or have transportation to a resource center to help create self-awareness and coping skills.
In June 2020, NATA LGBTQ+ Advisory Committee members Dani Moffit, PhD, ATC, and Glenn Edgerton, EdD, ATC, wrote "AT's Role in Stopping LGBTQ+ Bullying." The blog states, "As a health care provider, athletic trainers have a responsibility to the patients they treat. This is a chance to make a difference in someone's life. Be proactive; don't ignore bullying, it will not go away on its own. Develop an environment of respect and caring for all student athletes in your athletic training facility." Read the blog to continue learning about the AT's position to advocate for LGBTQ+ patients.
In the June 2020NATA News, Jennifer Sturtevant, MBA, LAT, ATC, NATA LGBTQ+ Advisory Committee member, wrote the article "The Impact of Health Care Discrimination on the LGBTQ+ Population." It details how ATs may be the only health care provider these patients are comfortable with and how ATs can be ready to address their needs.
Additionally, the Inclusion Resource webpage on the NATA website offers a variety of resource that cover topics including LGBTQIA+ 101, Cultural Competence in Health Care, LGBTQIA+ Allyship and Inclusivity in Health Care, Athletics and Education. Visit the webpage for a complete list of resources.