May 29, 2020 by
Elizabeth Quinn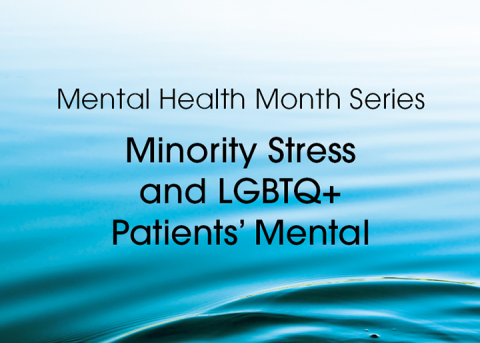 By Lorin Cartwright, MS, ATC, CAA, Timothy Neal, MS, AT, ATC, and Sean Rogers, DAT, ATC, NATA LGBTQ+ Advisory Committee
The minority stress theory suggests that sexual minorities, underrepresented gender identities as well as queer and other sexual identities (LGBTQ+) commonly experience distinct and chronic stressors related to their sexual orientation and/or gender identity. Societal shifts in understanding of various gender identities, expressions and sexual orientations began with major advocacy, education and research efforts in the 1980s.
These efforts have led to the level of LGBTQ+ rights (marriage, laws against hate crimes, etc.) that we have today. During this period in the 1980s, studies began to emerge identifying suicidal behavior among "gay" youth, which resulted in a U.S. federal report on the prevalence of gay youth suicide.1,2 As a result of these studies, and a changing attitude toward LGBTQ+ populations, there has been an increase in research into the mental health of LGBTQ+ youth and adults.1 These research initiatives have led to the identification of many objective and external stressors that specifically impact LGBTQ+ individuals. Such stressors include, but are not limited to, discriminatory employment and housing practices, heteronormative cultural norms, lack of political representation and fear of rejection.3
Mental Health Considerations of LGBTQ+ Individuals
Meyer's minority stress theory suggests that sexual minorities experience distinct and chronic stressors that are related to their stigmatized sexual orientation and gender identities. This stigmatization includes victimization, prejudice and discrimination.3, 4 Having to experience continuous discrimination, rejection, harassment and oppression can lead to the feeling of stigmatization. This stigmatization and prejudice places LGBTQ+ patients at risk for developing a mental health disorder and subsequent health disparities. Studies show that LGBTQ+ individuals are at greater risk for poor mental health across adolescent and adulthood years. LGBTQ+ youth experience elevated rates of mood disorders and depression.5,6 LGBTQ+ individuals also report a higher rate of post-traumatic stress disorder,7 anxiety disorders8 and alcohol use and abuse9 than cisgender counterparts. In LGBTQ+ adults, studies also demonstrate disproportionate rates of mental health symptomology due to stigmatization that occurred during adolescence.10,11,12
Creating an Inclusive Environment
In order to enhance patient care provided to all populations and, by extension, patient outcomes, the athletic trainer should focus on developing an inclusive environment that welcomes individuals of all protected statuses, including diverse sexual orientations and gender identities. The first step to developing an inclusive environment, whether it be in the athletic training clinic or otherwise, is to take inventory of the available strengths, weaknesses and shortcomings of the environment and educate other stakeholders on the importance of an inclusive environment.13 In any environment that strives to be inclusive, there must be an active structure to intervene when discrimination occurs, whether that discrimination is overt or covert. Such structures are commonly created through the implementation of anti-discriminatory policies and following through with consequences should said policies be violated.
The athletic trainer should be mindful of developing and maintaining a clinic environment that is compliant with state and federal anti-discriminatory laws and the NATA Code of Ethics, Principle 1.1: "Members shall render quality patient care regardless of the patient's race, religion, age, sex, ethnic or national origin, disability, health status, socioeconomic status, sexual orientation or gender identity."
The athletic trainer should also aspire to promote an environment that is free of distasteful jokes, name calling, bullying or body shaming, especially from those who might not be explicitly covered under the anti-discriminatory policy (e.g., other patients). While personal opinions and religious beliefs regarding the LGBTQ+ community may differ between individuals, athletic trainers are ethically obligated to provide quality care to each patient, free of discrimination, regardless of sexual orientation or gender identity.
It is also important for athletic trainers to seek education on the appropriate use of terminology and pronouns to respect the various sexual orientations and gender identities of diverse patient populations. While pronouns may seem daunting, their appropriate use is critical in creating an inclusive practice and building rapport with patients. The simplest and most effective way to determine a patient's pronoun(s) is to ask.
Additional steps that can be taken to developing an inclusive environment6,7 include:
Seek out education opportunities
Identify and address implicit bias
Take Safe Space Ally Training
Identify local resources for LGBTQ+ individuals
Use inclusive language/terminology on all patient forms
Use appropriate pronouns
Display inclusive signifiers
Actively advocate for an inclusive environment
Address discrimination when and where it occurs
Mental Health Referral Levels
Creating an inclusive environment through the aforementioned points is a great way to reduce the likelihood of stigmatization and minority stress within our clinics. While the hope of creating these inclusive environments is to reduce the chance of developing or exacerbating mental health conditions, nothing can replace a detailed mental health referral and care plan. Arguably one of the most difficult components in developing such a plan is determining when, where and how urgently to refer an individual suffering from a mental health condition. One of the cornerstones of developing mental health policies and procedures is to understand when a referral is necessary. When determining when, where and how urgently to refer a patient, the athletic trainer will want to consider the significance of the mental health condition and refer when appropriate. Utilizing the following levels of mental health referral can offer guidance when developing a policy and determining when to refer:
Level One: The patient doesn't know how to cope with overwhelming thoughts, feelings and emotions. An example of a level one referral is the individuals who wants to learn relaxation techniques to reduce stress before a competition. It is worth seeking out a mental health professional to help resolve this distress, but this is not an emergency.14
Level Two: Behaviors and actions stemming from psychological distress may be impairing daily living and the patient's ability to function. An example of level two is the individual who goes from having impeccable hygiene to no longer thinking it's important. This likely requires punctual care from a mental health professional, but it is not an emergency.14 In this instance, the athletic trainer needs to get the individual into the mental health professional within a couple of days.
Level Three: The patient is in imminent danger of hurting self or others due to psychological distress. In this instance, the patient must seek treatment from a mental health professional immediately. This is an emergency.14 If someone is not readily available, the individual must go to the emergency room.
The athletic trainer should have a resource list available. In the instance of the LGBTQ+ community, it is also necessary to have mental health professionals who are comfortable with their identity and orientation.
Conclusion
Considering the staggering level of mental health disparities that exist due to minority stress and stigmatization of LGBTQ+ individuals, the athletic trainer must focus on developing an inclusive clinical practice to improve patient outcomes in LGBTQ+ populations. An environment that is inclusive means using the proper pronouns and making sure all individuals are treated with respect and everyone on staff is acceptive and inclusive. Athletic trainers should seek continuing education in LGBTQ+ health care topics to develop a deeper understanding of health and health care disparities and how to be supportive. Taking Safe Space Ally training is one opportunity that can assist the athletic trainer in gaining a better understanding the LGBTQ+ needs in health care.
There may be stigmatism that surrounds mental health conditions, but as athletic trainers, we must treat such conditions with the same level of care that any other illness or injury deserves. Athletic trainers must be prepared to refer LGBTQ+ individuals just like any other patient, but this may require effort to ensure the referral is to a mental health care provider who is accepting of this population. Athletic trainers should additionally seek out national, regional and local resources to assist in addressing LGBTQ+ mental health concerns and providing patient centered care. Implementation of all the aforementioned items is a strong first step for athletic trainers in creating an inclusive environment for all patients and improving LGBTQ+ patient outcomes.
References:
1) Russell ST, Fish JN. Mental Health in Lesbian, Gay, Bisexual, and Transgender (LGBT) Youth. Annu Rev Clin Psychol. 2016;March 28(12):465-487.
2) Gibson P. Report of the Secretary's Task Force on Youth Suicide. Vol 3. Alcohol, Drug Abuse, Mental Health Admin., U.S. Dept. Health Human Serv.; Washington, DC: 1989. Gay male and lesbian youth suicide; pp. 115-42.
3) Meyer IH. Prejudice, Social Stress, and Mental Health in Lesbian, Gay, and Bisexual Populations: Conceptual Issues and Research Evidence. Psychol Bull. 2003;129:674-97.
4) Meyer IH. Minority Stress and Mental Health in Gay Men. J Health Soc Behav. 1995;36:38-56.
5) Bostwick WB, Boyd CJ, Hughes TL., McCabe SE. Dimensions of Sexual Orientation and the Prevalence of Mood and Anxiety Disorders in the United States. Am J Public Health. 2010;100:468-475.
6) Cochran SD, Mays VM, Alegrria M, Ortega AN, Takeuchi D. Mental Health and Substance use Disorders Among Latino and Asian American Lesbian, Gay, and Bisexual Adults in the United States. J Consult Clin Psychol. 2003;71:53-61.
7) Hatzenbuehler ML, Keyes KM, Hasin DS. State-Level Policies and Psychiatric Morbidity in Lesbian, Gay, and Bisexual Populations. Am J Public Health. 2009a;99:2275-2281.
8) Cochran SD, Sullivan JG, Mays VM. Prevalence of Mental Disorders, Psychological Distress, and Mental Health Services use among Lesbian, Gay, and Bisexual adults in the United States. J Consult Clin Psychol. 2003;71:53-61.
9) Burgard SA, Cochran SD, Mays VM. Alcohol and Tobacco use Patterns among Heterosexually and Homosexually Experienced California Women. Drug Alcohol Depend. 2005;77:61-70.
10) Fish JN, Pasley K. Sexual (minority) trajectories, mental health, and alcohol use: a longitudinal study of youth as they transition to adulthood. J Youth Adolescent. 2015;44:1508-1527.
11) Ueno K. Same-sex experience and mental health during the transition between Adolescence and young adulthood. Social Q. 2010;51:484-510.
12) Needham BL. Sexual attraction and trajectories of mental health and substance use during the transition from Adolescence to adulthood. J Youth Adolescent. 2012;41:179-190.
13) Rogers, SM, Crossway, AK. Aronson, PA. Creating a LGBTQ+ inclusive culture in the athletic training facility. Clinical Practice in Athletic Training. 2018; 1:11-14.
14) Russell ST, Joyner K. Adolescent Sexual Orientation and Suicide Risk: Evidence from a National Study. Am J Public Health. 2001;91:1276-1281.