October 5, 2021 by
Claire Williams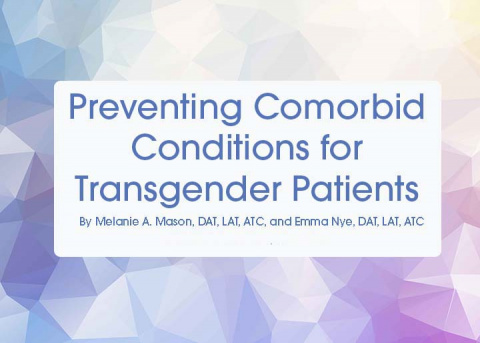 By Melanie A. Mason, DAT, LAT, ATC, and Emma Nye, DAT, LAT, ATC
Transgender individuals face substantial barriers to quality health care and encounter health disparities within their continuum of care.1 Research has shown that as high as 25 percent to 30 percent of transgender individuals are denied care by their health care provider based on their gender identity.2,3 Additionally, 90 percent of transgender adults surveyed in 2019 sought health care only when absolutely necessary.4
The athletic trainer plays a vital role in reducing barriers to accessing quality health care for all patients, including transgender individuals. The NATA Code of Ethics states, "Members shall render quality patient care regardless of the patient's race, religion, age, sex, ethnic or national origin, disability, health status, socioeconomic status, sexual orientation or gender identity."5
However, approximately only half of athletic trainers feel competent in using appropriate terminology with transgender patients, and athletic trainers did not believe they were competent in counseling transgender patients on the effects of hormone therapy on athletic participation or on mental health issues.6
The NATA LGBTQ+ Advisory Committee has compiled key points athletic trainers should know about transgender health care, and resources to improve their knowledge, awareness and patient care for this population.
Transgender Patient Care Resource
NATA Now blog post: "Transgender Patient Care," published in April 2021 after NATA released its member statement supporting transgender youth, outlines NATA's trans-specific resources available to members. 
What To Know About Hormone Therapy
Transgender females have a wide range of hormonal therapy options, which makes it more difficult to track their biochemical parameters.7
Not all transgender patients undergo hormone therapy or gender affirming surgery.
In transgender females, levels of testosterone are comparable to cisgender females.8
After transitioning, biometric measures resemble the transgender female's gender identity versus their sex at birth.9
Transgender patients may encounter changes in weight and body composition, altered lipid profiles and blood pressure, and eating disorders.10
Transgender females have a higher risk of ischemic stroke and cardiovascular disease.11
Hormone therapy for transgender individuals puts them at a higher risk for poor sleep.12
Hormone Therapy Resources for ATs
What To Know About Mental Health and Transgender Individuals
Transgender college students reported higher levels of eating disorders versus their cisgender counterparts.13
Transgender college students are three to four times more likely of having suicidal thoughts and attempts.12
Screenings should be utilized for sleep and mood disorders with transgender students.12
Resources on LGBTQIA+ Mental Health
Additionally, ATs may implement patient education, nutritional programs and empowerment educational programs for transgender individuals to encourage and motivate them to participate in preventive measures to help manage the complications and side effects they may encounter while and after transitioning.14
Interprofessional collaboration is also vital to ensuring transgender individuals have access to safe transition care. The AT must serve as an advocate and seek out resources and education regarding hormone therapy to reduce comorbid conditions for transgender patients.
Resources for Empowering and Educating
For more information or to read more about how ATs are utilizing research to improve patient care, read the October NATA News, available online to members exclusively now.
References
Ranji U, Beamesderfer A, Kates J, Salganicoff A. Health and access to care and coverage for lesbian, gay, bisexual, and transgender Individuals in the U.S. Menlo Park, CA: Kaiser Family Foundation; 2018. https://www.kff.org/disparities-policy/issuebrief/healthand-access-to-ca....
Mizra S, Rooney C. Discrimination prevents LGBTQ people from accessing health care.  Center for American Progress.  https://www.americanprogress.org/issues/lgbt/news/2018/01/18/445130/discrimination-prevents-lgbtq-people-accessing-health-care/. Published 2018.
Jaffee KD, Shires DA, Stroumsa D. Discrimination and delayed health care among transgender women and men. Med Care. 2016;54(11), 1010-1016. doi: 10.1097/MLR.0000000000000583
Lewis NJW, Batra P, Misiolek BA, et al. Transgender/gender nonconforming adults' worries and coping actions related to discrimination: relevance to pharmacist care. Am J Health Syst Pharm. 2019; 76(8):512-20. doi: 10.1093/ajhp/zxz023
NATA Code of Ethics. Updated March 2018. Accessed May 12, 2021. https://www.nata.org/membership/about-membership/member-resources/code-of-ethics
Walen DR, Nye EA, Rogers SM, et al. Athletic trainers' competence, education, and perceptions regarding transgender student-athlete patient care.  J Athl Train.  2020; 55(11), 1142-1152.  doi: 10.4085/1062-6050-147-19.
Seal LJ.  A review of the physical and metabolic effects of cross-sex hormonal therapy in the treatment of gender dysphoria.  Ann Clin Biochem.  2016; 53(1), 10-20.  doi: 10.1177/0004563215587763
Gooren LJ, Bunck MC. Transsexuals and competitive sports. Eur J Endocrinol. 2004; 151(4), 425-429. doi: 10.1530/eje.0.1510425
Lapauw B, Taes Y, Simoens S, et al. Body composition, volumetric and areal bone parameters in male-to-female transsexual persons. Bone. 2008; 43(6), 1016-21. doi: 10.1016/j.bone.2008.09.001
Linsenmeyer WR, Rahman R. Diet and nutritional considerations for a FtM transgender male: A case report.  J Am Coll Health. 2018; 66(7), 533-536. doi: 10.1080/07448481.2018.1431917
Connelly PJ, Marie Freel E, Perry C, et al. Gender-affirming hormone therapy, vascular health and cardiovascular disease in transgender adults.  Hypertension. 2019; 74(6), 1266-1274. doi: 10.1161/HYPERTENSIONAHA.119.13080.
Herschner S, Jansen EC, Gavidia R, et al. Associations between transgender identity, sleep, mental health and suicidality among a North American cohort of college students.  Nat Sci Sleep. 2021; 13, 383-398. doi: 10.2147/NSS.S286131
Diemer EW, Grant JD, Munn-Chernoff MA, et al. Gender identity, sexual orientation, and eating-related pathology in a national sample of college students. J Adolesc Health. 2015;57(2):144–149. doi: 10.1016/j.jadohealth.2015.03.003
Asadi M, Tabari F, Haghani S, et al. The impact of empowerment model-based education on quality of life of transgender people under hormone therapy: A randomized clinical trial.  J Family Med. 9(6), 2794-2800. doi: 10.4103/jfmpc.jfmpc_1201_19