June 29, 2021 by
Claire Williams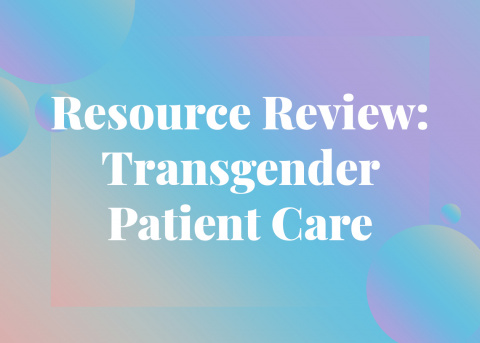 In honor of Pride Month, throughout June the NATA Now blog will highlight NATA's LGBTQIA+ resources to assist members in their pursuit of providing compassionate, culturally competent patient care to all.
In April, NATA released a member statement in support of transgender youth amid an influx of legislative changes throughout the country. It reiterated the athletic trainer's obligation, as stated in the NATA Code of Ethics, to provide the best care to all patients regardless of race, religion, age, sex, ethnic or national origin, disability, health status, socioeconomic status, sexual orientation or gender identity.
It's important for athletic trainers to consider their role in transgender patient lives as a trusted health care provider and take the time to review available resources and ensure their workplace establishes policies in protection of the transgender patient population.
NATA provides transgender-specific resources on the Inclusion webpage. The NATA LGBTQ+ Advisory Committee has also published several pieces in NATA News, Sports Medicine Legal Digest and the NATA Now blog that offer best practices utilizing research and personal experience.
Here are some of those resources for ATs to reference while considering transgender policy creation and to better serve the transgender population:
Supporting Transgender Youth Amid Legislative Changes (2021 Member Statement)
Caring for a Transgender Patient (NATA Now blog)

Written by Jennifer Raybern, MS, ATC, CSCS, and Emma Nye, DAT, LAT, ATC, this article provides ATs with the basics of transgender patient care, from taking the first step and what education to consider.

Considerations for Developing Transgender Policy (Sports Medicine Legal Digest Summer 2020)

Dani Moffit, PhD, LAT, ATC, and Amanda Tritsch, PhD, LAT, ATC, provides athletic trainers with necessary components to develop an inclusive transgender athlete policy for their school district or workplace.
For ATs: Transgender Policy Development (NATA Now blog)

This post specifically expands on the "Considerations for Developing a Transgender Policy" article for ATs to reference when drafting policies, either for student athletes at the secondary school and collegiate levels or for an athletic training facility.
Transgende Health Care: Ethical, Legal Considerations for ATs (NATA Now blog)

As a continuation of LGBTQIA+ coverage in Sports Medicine Legal Digest, this article by Lorin Cartwright, MS, ATC, CAA, Sean Rogers, DAT, ATC, and Rebecca Lopez, PhD, ATC, CSCS, outlines the ethical and legal considerations ATs should be aware of when treating trans patients. It references health care disparities, the NATA Code of Ethics and BOC Standards of Practice as well as collegiate, secondary school and Olympic/professional policies and procedures to know.

Helping ATs Help Transgender Students (NATA Now blog)

Written by Stacey Ritter, MS, ATC, and Dale Grooms, ATC, this article provides best practices for ATs to consider when treating transgender student athletes specifically.

Athletic Training Considerations for Transgender High School Athletes (NATA Now blog)

This article by Jennifer McHenry, MS, LAT, ATC, provides a personal account of recognizing, accepting and treating transgender patients, while providing insight into her experience with a trans athlete who felt respected.