October 20, 2023 by
Beth Sitzler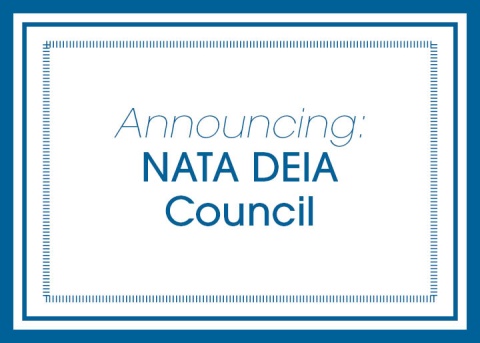 In 2021, the NATA Diversity, Equity, Inclusion and Access Task Force was introduced and charged with bringing the association's six DEIA commitments to life. This year, in order to continue this work well into the future, the NATA Board of Directors approved the formation of the NATA DEIA Council.
"The NATA Board of Directors recognized the great work the DEIA Task Force was doing and wanted to create a permanent structure to further support the association's DEIA efforts," said NATA President Kathy Dieringer, EdD, LAT, ATC. "The DEIA Council will continue to facilitate collaboration and sustained progress, ensuring that we're addressing not only our members' needs, but also the long-term needs of the association." 
The purpose of the DEIA Council is to develop and recommend efforts to ensure the implementation and integration of NATA's DEIA commitments. The council will also support and champion strategic alignment among all DEIA-related committees, work groups and initiatives to ensure optimal impact as well as advancement of the NATA Strategic Plan and DEIA commitments.
DEIA Task Force Co-Chairs Trevor Bates, DHSc, AT, and Rebecca Lopez, PhD, ATC, FNATA, will continue their leadership efforts, serving as the DEIA Council chair and vice chair, respectively.
In addition, the non-district-based council will include the chair of the NATA Ethnic Diversity Advisory Committee, chair of the NATA LGBTQ+ Advisory Committee, chair of the to-be-formed Accessibility Work Group and two at-large members, as well as staff and board liaisons.
The DEIA Council is currently looking for members to serve as at-large members, Accessibility Work Group chair and Accessibility Work Group members. All positions are currently listed in the NATA Volunteer Portal on Gather.
"[We're looking for] people who love the profession and just want to see us as a profession elevate," Bates said. "That love doesn't have an age; it doesn't have a geographic home. We want to work with passionate people who believe in NATA and want to help make it better for everybody."
"Any member who is interested in the work of the DEIA Council and creating action and change within the association related to our DEIA commitments is eligible," Lopez said.
The at-large member positions are designed to fill knowledge gaps as identified by the DEIA Council chair and vice chair, including but not limited to religion, age, gender and equity. At-large members are responsible for providing insight, expertise, strategic input, collaboration and support. At-large members will serve a one-year term that is renewable three times for a total of four years.
The Accessibility Work Group, which will consist of a chair and three to five members, will support the advancement of NATA's commitment to creating a more accessible and inclusive environment for members and patients with disabilities. The work group's responsibilities include identifying and recommending accessibility best practices; conducting an audit and assessment of NATA's events and deliverables; and providing training and awareness initiatives to promote accessibility.
Visit Gather for more information about the open DEIA Council positions, including requirements, and to apply. If you're new to the NATA Volunteer Portal or Gather, this NATA Now blog post outlines the steps to take to get started.