October 12, 2022 by
Lydia Hicks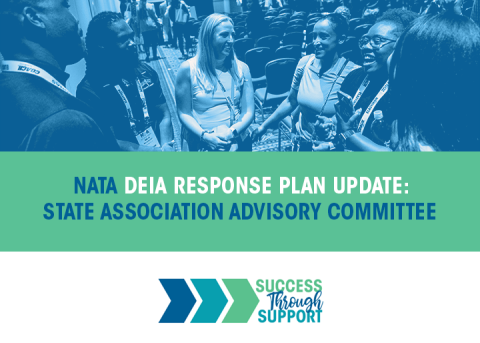 As part of Phase Six of NATA's Diversity, Equity, Inclusion and Access (DEIA) Response Plan, each NATA committee, commission and council was tasked with developing three to five actionable items that support one or more of the six NATA DEIA Commitments.
In this blog post, which is part of an ongoing series highlighting these efforts, NATA State Association Advisory Committee Chair Christina Emrich, MS, LAT, ATC, outlines SAAC's actionable items, what the committee hopes to achieve and how members can get involved.
 
What are your committee's three to five DEIA actionable items, and why were they selected?
1. Highlight common issues state associations face in diversity, equity, inclusion and access during the State Leadership Forum.
2. Identify action steps state associations can take to start addressing diversity, equity, inclusion and access in their own associations.
3. Collect and distribute state-specific membership demographics related to gender, race, ethnicity and job setting (per NATA database) to state leadership in all 51 state associations.
These items were selected based on the NATA strategic plan and mission to represent, engage and foster the growth and development of the athletic training profession. State leaders are able to provide the groundwork to engage their members of diverse backgrounds and experiences in order to encourage a welcoming environment for future leaders. This commitment is required at all levels of leadership for success.
Tell us about the development process that led your committee to these actionable items.
State athletic training associations face unique problems and these issues are often specific to member apathy and lack of involvement within their membership as well as changes in demographics. In collaboration with representatives from the NATA Student Leadership Committee, the former NATA Young Professionals' Committee, NATA Ethnic Diversity Advisory Committee and NATA LGBTQ+ Advisory Committee, SAAC addressed these issues and created a resource to help state associations recruit and retain future and emerging leaders based on general themes relating to diversity, equity, inclusion and access. This resource is the State AT Leadership Toolkit: Guide for Developing Diverse and Engaged Leaders.
How will the actionable items you've outlined impact NATA's members?
These items will help impact NATA's members by encouraging ideas and direction in ensuring diverse and inclusive state leadership. These resources will help to retain and invest in membership and future leader growth and development as well as provide opportunities for meaningful and impactful service.
How do you hope your committee's actionable items will contribute to NATA's overall efforts to improve DEIA?My hope is that these actionable items will help state leaders identify issues and challenges facing individual state associations, which will encourage meaningful discussions, networking and educational opportunities to ensure all athletic trainers are prepared to serve in leadership roles.
Where are you in completing your three to five actionable items?
These three actionable items have been completed and our committee has additional items that are currently in progress: applying DEIA to the SAAC volunteer selection process, developing best practices, and promoting state association initiatives that have led to improvement in DEIA during the State Leadership Forum or through other educational opportunities.
How can your fellow NATA members help bring these actionable items to life?
NATA members can reach out to their state leaders and encourage the discussion and sharing of examples and experiences of DEIA initiatives that have been implemented in their own state associations. They can also share how these initiatives improved the overall advancement of the athletic training profession. Current state leaders can help develop educational opportunities for future state leaders to continue this commitment and support of a diverse membership.
Where can members learn more about your committee's DEIA efforts?
Members can learn more about SAAC's DEIA efforts through our newsletters, Gather, social media, the State Leadership Forum and the SAAC sponsored session during the NATA Clinical Symposia & AT Expo.