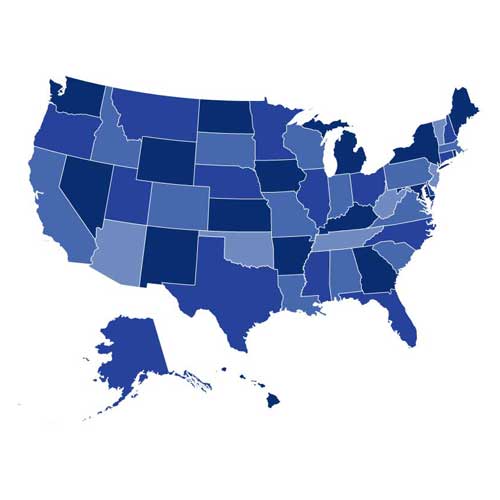 Resources
State Leadership Forum Request for Proposals
Do you have a topic you think state leaders would benefit from hearing at the State Leadership Forum? Each proposal will undergo review by the NATA State Association Advisory Committee. 
State Leader Toolkit
NATA's public awareness campaign, At Your Own Risk, has developed a State and District Promotional Toolkit (pdf) that provides helpful information for advocacy and public relations at the state level. The toolkit includes marketing tips and case studies of successful athletic training public awareness campaigns conducted at the state level.
Leadership Training
Development, training and preparation of future leaders are an important part of any association's longevity. NATA offers an online leadership course, the Leadership Academy, to encourage association leaders to hone their skills. The academy will grow to include various courses that focus on practical business and leadership topics, from advocacy to negotiating to conflict management.
SAAC State Association Grant Program
Through it's State Association Advisory Committee (SAAC), NATA provides funds to State Associations on a fiscal year basis (July 1 to June 30).  Consideration and eligibillity for grant funding will include but not be limited to items such as:
Engagement in an approved grant activity;
Demonstration of ability to complete projects and reports;
Completion of all application materials and requirements;
Quality, clarity and timeliness of the application
Grants are made at the discretion of NATA.  The intent is to support state association strategic and operational initiatives.  NATA cannot serve as the sole financial support of these efforts, but will provide funds as available to support these iniatives.  Learn more and apply here.
SAAC Newsletter
Third Party Reimbursement Matching Grant Program for States
NATA offers a Third Party Reimbursement Initiative Matching Grant Program for states seeking to professionalize advocacy and/or advance education and knowledge relative to third party reimbursement. Learn more by visiting Revenue/Reimbursement resources.
Awards
NATA formally recognizes leaders in the athletic training profession at the state level through the Emerging Leader award and the Excellence in Leadership Distinction. Both awards require recipients to be NATA members in good standing with current BOC certification and an NPI number with appropriate taxonomy code. The deadline for nominations is February 1. Nominations open October 1.
Excellence in Leadership
The Excellence in Leadership award is given to NATA members with 10 or more years of AT service or who have served one or more terms on a state board. These members should demonstrate:
The ability to inspire and motivate others, especially to increase state involvement in any arena (legislative, PR, GA, etc),
The highest level of service, integrity, professionalism, and competence,
Leadership by example,
Advocacy and dedication to the profession of athletic training at the state level, and
The ability to motivate others to accomplish higher levels of commitment to state service.
Excellence in Leadership winners
2021
Yvette M Ingram, PhD, LAT, ATC
Reid K Takano, ATC
Garvin N Tsuji, MS, ATC
2020
Jennifer Johnson, MS, ATC
Michael Roberts, MA, ATC, OTC
2019
Kira Berch, MA, ATC, LAT
Brandy Currie, MEd, LAT, ATC
2018
John L. "Doc" Moyer, LAT, ATC
Darryl T. Funai, MEd, ATC
Andrew Llaguno, MSEd, ATC, CSCS
2017
Cynthia Clivio, ATC
Jennifer Rheeling, MS, ATC
William "Sully" Sullivan, MS, ATC
2016
Craig Bennett, ATC
Craig Voll, ATC
Emerging Leader
The Emerging Leader Award is given to an NATA member, within their first 10 years of athletic training service, who:
Innovates and inspires ideas,
Demonstrates the highest level of service, integrity, professionalism and competence,
Raises the visibility and influence of the profession,
Actively shares responsibility and motivates others to accomplish higher levels of commitment to state service, and
Collaborates with other entities and organizations for the betterment of the state association.
Emerging Leaders:
2021: Zach Garrett, DHSc, MHA, ATC
2020: Brad Floy, PhD, ATC, CSCS
2019:  Justin Clark, LAT, ATC / Jamila Watson, MS, LAT, ATC
2018: Gina Biviano, MA, ATC
2017: Katie LaRue Martin, ATC
2016: Amy Brugge, ATC