November 1, 2022 by
Lydia Hicks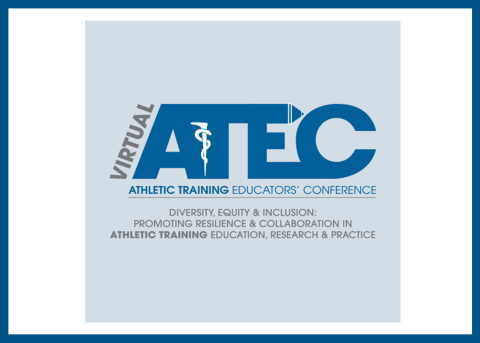 The NATA Virtual Athletic Training Educators' Conference (VATEC) is back this fall with invaluable content lined up for athletic training educators. Taking place live virtually from 11 a.m. to 4:40 p.m. CDT Nov. 4, the event will be accompanied by on-demand access Nov. 5-Dec. 5.
Held for the second year, VATEC was formed after the 2021 in-person NATA Athletic Training Educators' Conference (ATEC) was transformed into a virtual event to better meet AT educators where they are, especially during the COVID-19 pandemic. ATEC, itself, originated from the need to "provide educational opportunities for anyone who's involved in athletic training education," said VATEC Planning Committee Chair Kimberly Peer, EdD, AT, FNATA.
Since 1997, ATEC's programing has been focused on presenting new and practical steps to challenges faced in athletic training education. It has also highlighted aspects within higher education programs, such as model practices, to foster dialogue between programs and their personnel, Peer said.
"[ATEC] is dedicated to athletic training education," she said. "So, that's what's so unique about it and why I believe that people are attracted to this educational opportunity."
ATEC, traditionally held every other year, has been the key conference for athletic training educators' professional growth. After the success of the 2021 VATEC, and considering the event's value to educators as well as the importance to maintain the momentum of access to quality educational programming, NATA decided to hold a VATEC again this year.
"[VATEC] is a one-day event this year because it is the off year," Peer said. "We figured that the one-day event will give people the opportunity to engage and then the on-demand gives people the opportunity for an extended period of time, if the one-day event isn't convenient in their schedule."
To help educators further their skills in developing the next generation of ATs with regards to current issues within the profession, the VATEC 2022 theme is "Diversity, Equity & Inclusion: Promoting Resilience & Collaboration in Athletic Training Education, Research & Practice."
"There has been a lot of movement in higher education in general to look at [diversity, equity, inclusion and access (DEIA)], and athletic training programs are not exempt from that," Peer said. "NATA has put DEIA initiatives as top priority, as have institutions of higher learning across the country. The Commission on Accreditation of Athletic Training Education has addressed those, the Board of Certification for the Athletic Trainer has looked at equity issues over the past year, and so we thought that it was very timely – as the members of the AT Strategic Alliance are prioritizing this – that we, too, as athletic training educators would bring some of the unique and innovative approaches to the table for people to consider."
VATEC Programming
VATEC 2022 attendees can learn from sessions on recruitment, student engagement, interprofessional education, cultural competence and humility and several other topics that fit within the theme of the conference. There will be almost 14 hours of learning spread over the live and on-demand period, and attendees have the ability to earn up to 7 CEUs.
VATEC 2022 serves as an avenue for attendees to connect with fellow AT educators and thought leaders. Breakout sessions, lectures and model practice groups will be held throughout the live and on-demand event. With consideration to the styles of learning among people, there will be sessions ranging from 10 minutes to one hour.
Breakout sessions and lectures will be from 30 to 60 minutes with one to two speakers. Attendees can expect to leave with concrete tools they can utilize within their programs, if appropriate for their needs.
The Model Practice Showcase comprises sessions that run from 10 to 15 minutes. It is intended to share innovative and model practices from all aspects of athletic training education in a short and focused format.
Read a preview of the VATEC 2022 programming to learn more. View the complete VATEC 2022 Preliminary Program  and register now.
.