December 19, 2022 by
Lydia Hicks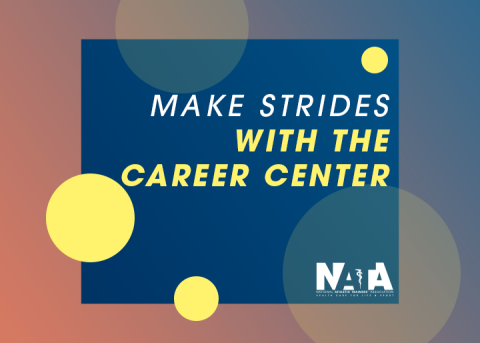 As the NATA Career Center statistics reveal in the December NATA News, this member-only benefit celebrates a stellar year as a valuable online venue for NATA members to find jobs, having operated for over 10 years.
Not only has it broken records in terms of the number of postings, participation has increased across board. This feat is one of the milestones it was established for.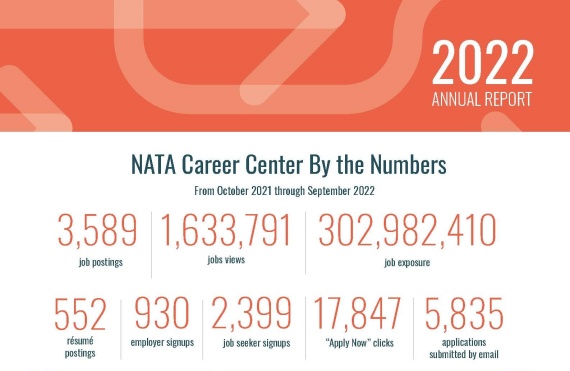 The Career Center exits to showcase members' professional caliber and help them connect with the best employers. It provides unique benefits to NATA members not only with regards to professional growth, but also, support, connection and advocacy as pillars of membership. With professional growth, the variety of jobs posted in the NATA Career Center allows an AT, at any phase in their career, to seek out new opportunities for professional development. As a support to members, the NATA Career Center is a member-only benefit, giving our ATs a serious advantage over nonmembers in the competitive job-seeking market. The Career Center is also a hub for connection between job seeking members and prospective employers. As the world's largest and most comprehensive listing of athletic training jobs, the Career Center connects available positions and employers with ATs ready to elevate their career. In addition to job opportunities, the Career Center provides members with resources that can help them better advocate for themselves with potential employers.
Members seeking jobs are encouraged to submit their resumes to the Career Center via its webpage on the NATA website.
Employers seeking to post job opportunities can do so via the Career Center's webpage as well.
For further questions, contact NATA Member Services at 972-532-8897 or membership@nata.org as a prospective employee. Employers can contact YM Careers 727.497.5972 or email clientserv@yourmembership.com with their inquiries.
Read on to hear from Andrea Lobacz, PhD, ATC, who applied for and got offered an assistant athletic trainer position at Columbia University via the NATA Career Center and Tim Kelly, MS, ATC, an employer whose experience with the NATA Career Center helped his organization find the most qualified candidates.

Andrea Lobacz, PhD, ATC
Associate Professor, Neumann University
What inspired you to utilize the NATA Career Center for your job search?
As an NATA member, I was aware of the benefits of the Career Center and had always known it as the go-to spot for AT jobs. I felt confident in using the Career Center in my search and appreciated that all the job listings were true AT positions. I was inspired by students that had graduated in my program before me and other certified athletic trainers that I was working with that had successfully secured employment through the Career Center.
What was the AT job search like for you?
At the time of my first AT job search, I was under a significant amount of stress as I was finishing my master's degree program and thesis, while completing a graduate assistantship. I was a GA with a Division I track and field program that was in the midst of championship season, which included a large amount of travel. Hence, my job search time was limited and I felt pressure to find employment following graduation. However, I did not want to accept just any job that was offered to me, I wanted the job to be the right fit. I was checking the Career Center every day for new listings and it was reassuring to know that I was able to view jobs as they opened. Even at a very busy time, through use of the Career Center, I was able to seek out and interview – by phone and on-campus – with several employers that had job openings that met the exact criteria I was looking for.
Including an example, how has the Career Center helped you in your AT job search?
I used the Career Center to secure my first job following graduation from AT Still University of Health Sciences in Arizona. The Career Center allowed me to connect with staff across the country at Columbia University in New York, New York. Following a phone interview, I met with a staff member at the NATA Clinical Symposia & AT Expo, then traveled to New York for an on-campus interview. While I had other interviews and offers, all possible through the Career Center, Columbia felt like a perfect fit for me and I accepted the offer for employment.
From your experience, how does the Career Center differ from other job sites?
The Career Center is a not only a comprehensive offering of athletic training jobs just for NATA members, but it also offers the ability to search jobs using AT-specific filters, such as job setting, district and others. This can minimize search time for a job seeker and can help to find the best potential fit in job listings, without having to sort through large numbers of unrelated positions.
Why is it important for ATs to take advantage of the Career Center?
It is important for ATs to take advantage of the Career Center because you can be sure that job listings meet a specific salary minimum based on the most recent Salary Survey data. Even if you aren't actively searching for a job, the Career Center allows you to set job alerts that can be sent right to your email. Additionally, you can upload your resume and interested employers can seek you out. The Career Center is made for the AT and provides an excellent job search experience with many other tools for job seeking and career planning.
 
Tim Kelly, MS, ATC
Head Athletic Trainer, United States Military Academy
What inspired you to utilize the NATA Career Center for your hiring process? 
Over the years I have found the NATA Career Center to be the most utilized site for our profession. Utilizing this site provides us with the most qualified candidates for our open positions.
As an NATA member using the Career Center, what does the AT hiring process look like for you?  
This hiring process is one of the most important aspects of my job. I am trying to find highly motivated individuals that will mesh in our unique and challenging environment here at the Academy.
How has the Career Center helped you as an employer in athletic training? 
I believe the career center assists us in portraying our position, job qualifications, benefits etc., in a manner that helps us identify the most qualified individuals.
From your experience, how does the Career Center differ from other job sites? 
We do not get unqualified individuals applying on the Career Center.
Why is it important for ATs to take advantage of the Career Center? 
I think it is the most effective method to hire ATs in our current environment. 
 
Renew Your NATA Membership
Your membership with NATA unlocks access to a variety of member bene­fits in professional growth, advocacy, support and connection, with several benefi­ts extending beyond just one of these categories. Visit the NATA Member Benefits webpage to learn more about what comes with being an NATA member and renew your membership today. The deadline to renew is Dec. 31.
Don't let finances get in the way of a membership – if you are experiencing a financial hardship, contact Member Services at 972.532.8897 or membership@nata.org to see how we can help.