October 17, 2022 by
Lydia Hicks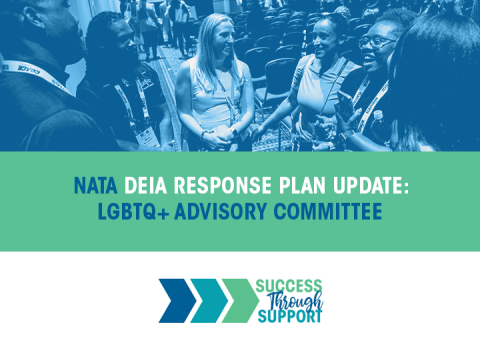 As part of Phase Six of NATA's Diversity, Equity, Inclusion and Access (DEIA) Response Plan, each NATA committee, commission and council was tasked with developing three to five actionable items that support one or more of the six NATA DEIA Commitments.
In this blog post, which is part of an ongoing series highlighting these efforts, NATA LGBTQ+ Advisory Committee Chair Jennifer Sturtevant, MBA, LAT, ATC, outlines the committee's actionable items, what the committee hopes to achieve and how members can get involved.
 
What are your committee's three to five DEIA actionable items, and why were they selected?
The following initiatives were specifically identified as they directly correlate with our committee's mission, which includes the statement that we "will identify, explore, address and provide educational resources regarding emerging topics and concerns relevant to diverse sexualities, gender identities and gender expressions within the profession and health care topics affecting patients in the LGBTQ+ community."
We strive to deliver the most up-to-date information to the membership giving them the knowledge they need to provide the highest quality of patient-centered care. We also look to collaborate with the NATA Board of Directors by advising and putting forth recommendations on how to offer the most inclusive and equitable environment for all members.  Ultimately, all of the work that we do is relevant to the overall DEIA action plan, and we will continue to grow and adapt as the needs of our diverse members and patient populations change.

1. Continuous delivery of live and asynchronous Safe Space Ally Training (SSAT) for Athletic Trainers and developing Level Two SSAT.
2. Use social media to disseminate educational resources related to LGBTQIA+ issues and interact with athletic trainers and others.
3. Writing articles for publication in NATA News and peer-reviewed journals. Recent emphasis of articles and presentations has been on transgender health care and providing information and resources for athletic trainers with transgender patients.
4. Updating NATA membership demographics (gender, honorifics, LGBTQIA+ status) during membership application or renewal.
5. NATA Clinical Symposia & AT Expo Committee Presentation Proposals.

Tell us about the development process that led your committee to these actionable items.
We have always been focused on trying to expand our reach as far as possible throughout districts, states and work settings. By listening to the needs of membership (through town halls, feedback surveys, etc.), we have been able to identify areas where change was needed as well as what was lacking in available resources.
How will the actionable items you've outlined impact NATA's members?
These items allow us to continue to provide the most up-to-date, relevant information and resources to members as well as promote an affirming environment for our patients and colleagues.
How do you hope your committee's actionable items will contribute to NATA's overall efforts to improve DEIA?
Hopefully, we see an impact at all levels whether it be changing terminology in communications, voicing support for our fellow athletic trainers, creating safer and more inclusive environments throughout NATA or improving and increasing the educational content that NATA provides through conferences, publications and other communications.
Where are you in completing your three to five actionable items?
Most of these items are ongoing projects. Updating NATA membership demographics to be more inclusive was completed in early spring 2022 and will be reviewed periodically to determine if updates are needed. We were also able to provide recommendations on changing the NATA Code of Ethics to include how we treat our colleagues as well as our patients. It's really important to make sure we are treating each other with respect, while being inclusive of each other's unique identities.
How can your fellow NATA members help bring these actionable items to life?
We appreciate any and all feedback, suggestions, thoughts and ideas to help guide us in ensuring we are fulfilling the needs of the membership. Also, take the initiative to attend SSAT or one of our many educational sessions we provide throughout the year at district and national meetings Reach out to your district representative or myself if you have questions or would like to get involved!
Where can members learn more about your committee's DEIA efforts?
Members can learn about what we are doing through our social media outlets (we are on Facebook, Twitter and Instagram), by subscribing to our quarterly e-newsletter and by visiting the Inclusion section of the NATA website.