July 11, 2022 by
Lydia Hicks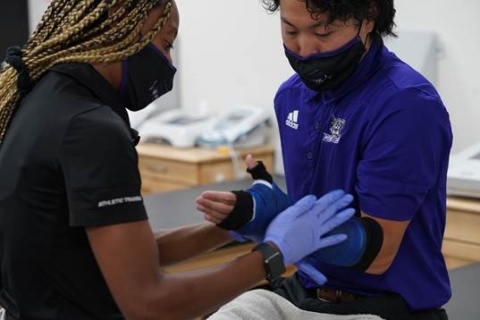 As seen in the article, "The Qs and As That AT Programs Should Consider When Recruiting Students," in the July issue of the NATA News, recruiting diversity is important to the athletic training profession and a part of NATA's heartbeat.
To this end, at the professional level, two veteran athletic trainers have collaborated on a recruitment strategy that starts with students and increases diversity in their master's programs.
Beginning the process with prospects from historically Black colleges and universities (HBCUs), Tom Abdenour, DHSc, ATC, NASM-CES, and Weber State Department of Athletic Training Chair Valerie Herzog, EdD, LAT, ATC, have been collaborating to advance the profession by investing in the holistic value each student brings to athletic training.
"What we've done is we've taken the program to the students, rather than students to the program," said Abdenour, who is also an NATA Hall of Fame member and member of the California Athletic Trainers' Association Management Board.
"They are coming from a quality educational background, and we are super excited about that, and we want to bring them into our program because of that, not because we are trying to check some box," said Herzog, whose athletic training master's program at WSU has recruited two students from HBCUs so far.
 
WHY UNDERREPRESENTED STUDENTS?
Considering why the athletic training profession should adopt this type of recruitment, Abdenour said that it's important to fill the profession's current diversity gap stemming from the transition to the master's degree level. He discovered this discrepancy at a town hall event during the virtual NATA Clinical Symposia & AT Expo in 2021, which specially caught his attention.
"Someone pointed out that there was only one CAATE-approved [master's] program in an HBCU," he said.
Working to fill this gap, Abdenour said that as he and Herzog inform underrepresented students about the profession, they have a chance to help build up this next generation of AT professionals.
"Once they get in, go through, get their degree, get certified, the world is theirs," he said.
 
THE RECUITMENT PROCESS
At the onset of the initiative in 2020, Abdenour and Herzog believed that if a student at an HBCU was interested in becoming an AT, it was likely that they were in an internship program with athletic trainers at their institution, Herzog said.
With this in mind, Herzog and Abdenour applied a strategy in which they connected with those staff ATs, who would introduce the opportunity of athletic training master's programs to their students, Herzog said. If the students showed any interest, the recruitment team would hold a Zoom webinar with them, during which they could discuss the program, the athletic training profession and extensively answer questions, emphasizing their genuine interest in the student as a bona fide candidate for the AT program.
They would further stress that their interest "is not just because we are trying to check a box and increase our diversity numbers, but because we recognize the value that diversifying our profession brings to the profession and health care as a whole," Herzog said.
"I think they have appreciated that message," she said. "Tom and I had applied the principle over the years volunteering at NATA and other associations that if you just put out a column and say, 'Hey, we need people to be on a committee or we need people to be on this task force or workgroup,' you might get one or two. But, 90% of the time, if you tap somebody on the shoulder and say, 'I really think that you should apply,' they will.
"So, we are applying that principle here of going to them and saying, 'We really think you would be great and we'd love for you to apply' and it's made a big difference."
OUTCOME SO FAR
"We've had a lot of students attend the webinars and show a lot of interest and, this fall, we've had two students come into our program from HBCUs out of a cohort of eight, which is 25%," Herzog said.  
Abdenour, Herzog and their colleagues have successfully recruited one student from Winston-Salem State University and one student from South Carolina State University into WSU.
Herzog added that this is a feat for the state of Utah, where Weber State is located, considering the challenges her recruitment team has faced in the past.
"One of the challenges that we have is most HBCUs are from the East Coast … and for any student, Utah is a long way from home," she said. "Then, there's concerns about Utah culture; if you are not a member of the Church of Jesus Christ of Latter-day Saints [or Mormon], if you are already feeling like an outsider, you are going to doubly feel like an outsider because you are not a member of a prominent religion either.
"So we had those challenges as well. That's one reason we want to get the word out, because if other universities that are more on the East Coast do this, too, I think they will find even greater success."

FOLLOWING THE LEAD
"There is only one HBCU with a CAATE-approved program," Abdenour said. "However, if a handful of other AT programs follow our lead, then we might be able to create a cohort of 12 to 15 HBCU students, who otherwise may not have considered athletic training as a career choice, who are enrolled in programs across the country."
In light of this development so far and sustaining the heart behind diversifying the profession further, Herzog and Abdenour shared tips for other athletic training programs interested in this recruitment strategy:
Herzog: "Reach out to the athletic training staff at these universities. You might also try reaching out to the exercise science programs, but I think reaching out to the AT staff has really been effective. Ask them if they are willing to share some information or do a Zoom meeting with their interns."
Abdenour: "We went for the non-academic side. They see the students on a regular basis and they can take the temperature, so to speak, and find out who is interested in our profession."
Herzog: "If it is local to you, go physically visit. It just wasn't feasible for us to do that because of the distance, but if there are schools in your area, go there and develop an in-person relationship. We also developed a brochure tailored to each HBCU that identifies the courses there that meet our prerequisite requirements."
Abdenour: "We just want to encourage others who are interested to consider it. We would encourage everyone to kick this idea around and think about how we can make it better."
Herzog: "One of the things they could do is go to the NATA Clinical Symposia & AT Expo and go to the NATA Ethnic Diversity Advisory Committee events and, at least, some of those athletic trainers might be there and you can make a first point of contact as well."
EXPANDING TO HSIs
This recruitment strategy doesn't end with HBCUs; Herzog and Abdenour said its next phase is to recruit students from Hispanic-serving institutions (HSIs) and other underrepresented populations.
Herzog shared that recruiting these students is a feasible next step because there are more HSIs on the West Coast.
"So, I might be more likely to be successful recruiting to a Utah school, and then also schools that serve primarily indigenous populations because we have quite a few of those that serve in the Utah, Arizona and Colorado area as well," she said.