June 15, 2023 by
Lydia Hicks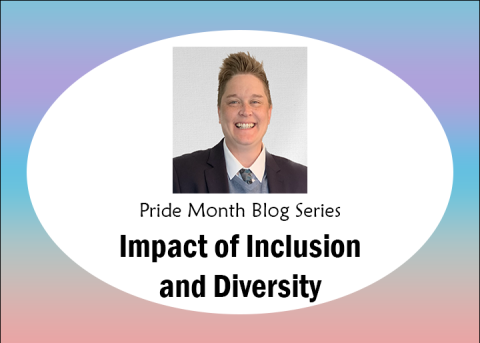 To commemorate Pride Month, throughout June the NATA Now blog is highlighting members of the NATA LGBTQ+ Advisory Committee and their impact on the profession.
 
Having grown up with an affinity for sports, Cloe Klaus, MSc, LAT, ATC, knew they wanted to pursue a career that would keep them around athletics.
Inspired by their physical therapist's work on their injuries, Klaus was looking into physical therapy as a possible career path when athletic training captured their heart.
"It wasn't until I started looking into college programs in the U.S. that I kept seeing this education program called athletic training," said Klaus, a Canadian native. "So, I finally looked it up and knew instantly that was what I wanted to do, to continue being around sports and to help athletes get back to playing after an injury."
After many years in athletic training, they still give back to their professional first love – the collegiate setting – which introduced athletic training to them. As an athletic trainer at the University of Notre Dame and an avid volunteer in the profession, the NATA LGBTQ+ Advisory Committee District Four representative has contributed to diversity and inclusion at the state, district and national levels.
Read on to learn more about Klaus' impactful story.
What was your first volunteer position within the athletic training profession and why did you get involved?
When I started overseeing students as a preceptor, I really enjoyed the opportunity to help them learn and grow both their abilities and confidence. It also challenged me to stay up to date with the education curriculum and research, and gave me the first taste of educating future professionals.
Tell us about your current positions with the NATA LGBTQ+ Advisory Committee. What do you hope to accomplish in this role?
I am the District Four representative on the NATA LGBTQ+ Advisory Committee, which allows me the opportunity to work with the NATA LGBTQ+ Advisory Committee as well as the Great Lakes Athletic Trainers' Association Diversity and Inclusion Committee. While I've been on this committee, we've drafted and approved the NATA statement on supporting gender-affirming care; I've been part of the social media team to help spread education and awareness; and I'm working with my colleagues to create the Safe Space Ally Training, Part 2. I am passionate about diversity and inclusion, anti-racism, and equitable policies and procedures, specifically for the LGBTQIA+ community and intersectional identities, and I hope to make an impact on athletic training on a national level by improving the landscape for those most marginalized.
How has volunteering helped you grow personally and professionally?
I think one of the biggest benefits of volunteering are the connections you make. This past year, I've gotten to know some incredible people who are also working toward greater inclusivity within athletic training and at their own institutions. It has led to various opportunities that I didn't even imagine happening, including getting to present at the GLATA symposium this past year, co-authoring on a Journal of Athletic Training editorial and opportunities for future presentations and research. 
Why is representation in leadership important and how does it impact the profession?
Representation is vital to creating change. First, by providing a voice to issues that affect LGBTQIA+ folks, including both patients and other health care practitioners. Second, diversity in leadership has been shown to strengthen organizations. Policies and statements can only go so far if an organization isn't truly embodying those ideals, such as hiring and attaining a diverse workforce (including within leadership) and following through on the promises of inclusivity. It may be that an athletic training student from a marginalized community believes they belong in the profession because of the folks in leadership they see who are just like them.
Why should ATs get involved in leadership and service?
While I can't speak on why others should get involved, I know that for me it has helped to create a belonging within the profession I didn't feel before. Even though committee work can at times be slow moving, it's heartening to know there are those beside me working toward a more inclusive profession and that I'm not alone.
What advice do you have for other athletic trainers who want to give back to the profession? 
Give it a chance. It may be difficult to see where volunteering can fit into your already packed schedule, but you may just find that the work energizes you, that you make some amazing professional connections and that it is worth it in the end.