November 1, 2022 by
Lydia Hicks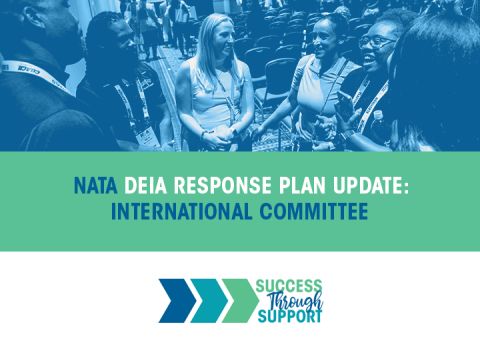 As part of Phase Six of NATA's Diversity, Equity, Inclusion and Access (DEIA) Response Plan, each NATA committee, commission and council was tasked with developing three to five actionable items that support one or more of the six NATA DEIA Commitments.
In this blog post, which is part of an ongoing series highlighting these efforts, NATA International Committee Chair Matthew Kutz, PhD, ATC, CSCS, outlines IC's actionable items, what the committee hopes to achieve and how members can get involved.
 
What are your committee's three to five DEIA actionable items, and why were they selected?

1. The Travel Safety Checklist: This is a collaboration with the NATA LGBTQ+ Advisory Committee to identify safe and "risky" travel destinations for athletic trainers who may need to travel abroad for various reasons.
2. Cultural Attunement Webinars: This will be a series of webinars that will be available indefinitely to our members on various topics relevant to inclusive behaviors during international travel or when engaging with international partners.
3. We plan to enhance our existing ambassador program to include interactive website links and develop FAQs for the website that specifically target the DEIA insights relevant to international collaboration.
4. Committee membership: As members roll off the committee, we aim to be conscious and aware of the diversity of the committee. As it stands, we are proud to announce that our two newest committee members, who were added to the committee this current cycle, are from internationally diverse backgrounds.
5. We are currently developing an additional idea that requires collaborating with the NATA Ethnic Diversity Advisory Committee on a cognitive diversity master class. This is in the exploration phase; currently, a task force has been developed with members from both committees collaborating on content that can be presented to the membership. The idea of a masterclass on cognitive diversity is important because cognitive diversity is the foundation and basis to all other aspects of diversity, including ethnic, cultural, international, etc.
Tell us about the development process that led your committee to these actionable items.
The process included extensive dialogue with various committee members, including very time-intensive subcommittee work on a new strategic plan. The IC strategic plan, which included several DEIA initiatives, was put together by a task force. It was then brought back to the whole committee for dialogue and input. Once all the input was collected, the task force reconvened, implemented the recommendations and resubmitted the strategic plan, which included the DEIA initiatives and was eventually ratified.
How will the actionable items you've outlined impact NATA's members?
We believe that the items we have identified and the associated actionable items will provide meaningful content to members who are interested in enhancing DEIA with their knowledge as it pertains to interacting and working with the international health care space. Furthermore, the international committee is excited to know that a few actionable items on our DEIA initiatives list requires/includes collaboration with EDAC and LGTBQ+ Advisory Committee.
How do you hope your committee's actionable items will contribute to NATA's overall efforts to improve DEIA?
We anticipate that our DEIA action items will be well-received and become useful tools for current and future members as they advance their careers and become socialized into the athletic training profession.
Where are you in completing your three to five actionable items?
We have already begun to execute several actionable items.
How can your fellow NATA members help bring these actionable items to life?
By accessing and implementing the resources we have developed or are developing.
Where can members learn more about your committee's DEIA efforts?
Members can learn more about the IC's DEIA efforts through NATA News. They can connect with the IC through LinkedIn, Facebook and Twitter. They can also reach out to me at mkutz@fiu.edu.