November 28, 2022 by
Lydia Hicks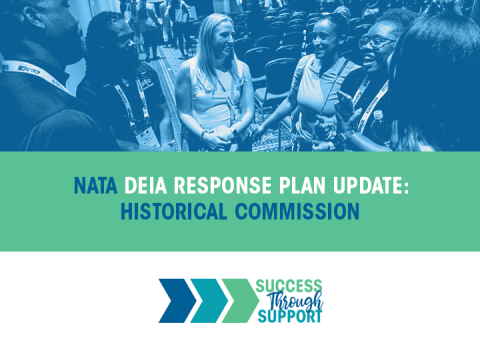 As part of Phase Six of NATA's Diversity, Equity, Inclusion and Access (DEIA) Response Plan, each NATA committee, commission and council was tasked with developing three to five actionable items that support one or more of the six NATA DEIA Commitments.
In this blog post, which is part of an ongoing series highlighting these efforts, NATA Historical Commission Chair Roger Kalisiak, MSEd, AT Ret., outlines the HC's actionable items, what the commission hopes to achieve and how members can get involved.
 
What are your committee's three to five DEIA actionable items, and why were they selected?
Preserve and catalogue common concerns that NATA faces in diversity, equity and inclusion.
Record action steps that NATA members take to address DEIA.
Make information available to the membership and general public for research and support.

Tell us about the development process that led your committee to these actionable items.
NATA is largely a volunteer association that relies on its members. Guided by its mission to capture and record information and events that can serve as models for future research to support the administrative staff and member volunteers, the Historical Commission developed these actionable items.
How will the actionable items you've outlined impact NATA's members?
The hope is that as the commission makes the collection accessible, organized and documented, members and administrative staff will be able to access information regarding all aspects of NATA.
How do you hope your committee's actionable items will contribute to NATA's overall efforts to improve DEIA?
The national, district and state leaders as well as the general membership, will be able to research trends in DEIA that would encourage productive discussions. This would enhance the profession, thereby continuing the growth we are experiencing in all aspects of DEIA.
Where are you in completing your three to five actionable items?
HC has developed a database that will serve as a "warehouse" for photos, documents, member, profiles as well as NATA-sponsored research and initiatives. With the addition of an online museum, the membership and general public will be able to view the historical progress of the athletic training profession and the opportunities that are available for research.
Our creation of the history and archives is ongoing, and as we gather more information, more details will be made accessible.
How can your fellow NATA members help bring these actionable items to life? 
HC is currently creating stories and exhibits for an online museum. We have stories that include history of pioneer athletic trainers, early association members, women in athletic training and more. Members can contribute to the NATA story and NATA committees can forward their notes and projects to HC for placement in the NATA archives.
Where can members learn more about your committee's DEIA efforts?
Members who are interested in creating stories and exhibits should contact HC on the NATA website or reach out Kalisiak at rkalisiak@comcast.net.
 
Renew Your NATA Membership
Your membership with NATA unlocks access to a variety of member bene­fits in professional growth, advocacy, support and connection, with several benefi­ts extending beyond just one of these categories. Visit the NATA Member Benefits webpage to learn more about what comes with being an NATA member and renew your membership today. The deadline to renew is Dec. 31.
Don't let finances get in the way of a membership – if you are experiencing a financial hardship, contact Member Services at 972.532.8897 or membership@nata.org to see how we can help.