September 28, 2023 by
Lydia Hicks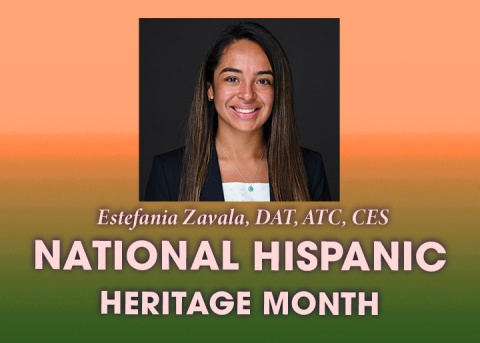 In honor of National Hispanic Heritage Month Sept. 15-Oct. 15, the NATA Now blog is highlighting some of our athletic training leaders at the state, district and national levels.
Estefania Zavala, DAT, ATC, CES, began her athletic training journey inspired by the compassionate care she experienced from her high school AT while playing soccer.
"She was always there for everyone, as athletes and as people," she said.
Always driven by her passion for people and growth, the former secondary school patient became an athletic training student, allowing her to network with the profession's predecessors and advance her skill set.
Now, Zavala has not only thrived in the college and university setting, but also as a leader in the profession through her roles as Great Lakes Athletic Trainers' Association Diversity and Inclusion Committee member and NATA Ethnic Diversity Advisory Committee District Eleven representative.
Her leadership and service reveal her work to aid patients and peers in the profession.

What was your first volunteer position within the athletic training profession and why did you get involved?
I was part of the Illinois Athletic Trainers' Association student congress starting my junior year as an undergraduate student. I had a classmate who was involved at the time and mentioned the benefits of volunteering, such as networking, learning from other institutions and getting to work together with other students. It was great to be surrounded by individuals who had the same growth mindset.
Tell us about your current position as NATA Ethnic Diversity Advisory Committee District Eleven representative. What do you hope to accomplish in this role?
I hope to inspire others who look like me to believe they can also be in any volunteer role. There are plenty of ethnically diverse ATs who are leaders and great role models. We are working hard within EDAC to promote diversity and make space for important conversations regarding where we are now within the AT profession. My peers and I are currently working on the NATA Leadership Report project. We have collected demographic data and analyzed our current AT population within the AT Strategic Alliance. I hope the information we share helps guide others in the recruitment and retention of ethnic individuals at their respective institutions as well as in the education system.
How has volunteering helped you grow personally and professionally?
Volunteering right away as an AT student allowed me to become more confident in networking and reaching out to others. I am still in contact with some peers and it's nice to see where we are all at now and how much we've grown. Don't be afraid to ask questions – you never know what opportunities could come your way when chatting with other ATs at conferences and symposia.
Why is representation in leadership important and how does it impact the profession?
Representation matters if we want the people making decisions about the athletic training profession to understand where we are all coming from. Every voice counts and, again, it begins with having those conversations about what it is that we are lacking within our institutions, conferences and own experiences. The profession is not going to grow if we become complacent with the lack of diversity we see now, especially within positions at state, district and national levels. You don't need an official "leadership" title, such as director or head athletic trainer, to apply for a volunteer role and influence others.   
Why should ATs get involved in leadership and service?
ATs have the opportunity to be part of a group in which they can connect with others outside of work and give back to our profession. We have the chance to meet new people, while working toward something that we're passionate about. It feels great to know you are giving back as well. For example, one of my favorite memories is our EDAC Service Day, where we all get together for an event to promote athletic training and resources to the younger generation (middle schools, high schools). Impacting one kid is always a big difference and I get to share those experiences with my peers.
What advice do you have for other athletic trainers who want to give back to the profession? 
Talk to your director, friends and peers, etc., about what opportunities there are. You can also go to the NATA website to see what volunteering positions are open. Most importantly, reach out to your state and district representatives. You can always contact EDAC, if you need assistance, but there are plenty of chances to get involved!