November 14, 2022 by
Lydia Hicks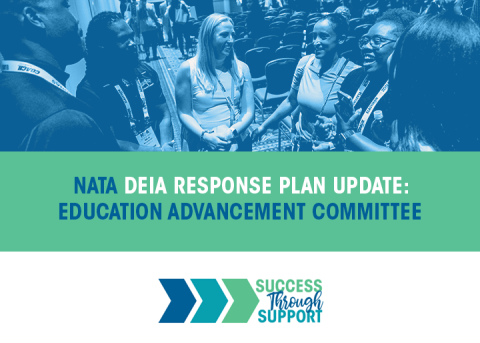 As part of Phase Six of NATA's Diversity, Equity, Inclusion and Access (DEIA) Response Plan, each NATA committee, commission and council was tasked with developing three to five actionable items that support one or more of the six NATA DEIA Commitments.
In this blog post, which is part of an ongoing series highlighting these efforts, NATA Education Advancement Committee Chair Sara Nottingham, EdD, LAT, ATC, outlines EAC's actionable items, what the committee hopes to achieve and how members can get involved.
 
What are your committee's DEIA actionable items, and why were they selected?
We focused on offering programming to educators to help them implement DEIA content into their programs. We were already developing content so it was easy for us to shift the emphasis toward DEIA.
Tell us about the development process that led your committee to these actionable items.
Committee members brainstormed what they thought was needed by educators and we considered our committee members' expertise, along with others in the profession. We developed concepts for presentations, identified speakers and developed content. Lastly, we finalized the best outlet for these presentations – asynchronous on the NATA website.
How will the actionable items you've outlined impact NATA's members?
NATA members who are educators will have an additional resource for strategies to integrate DEIA concepts into their curriculum, such as social determinants of health and trauma-informed care, and use books to discuss challenging topics. We hope that, by using these resources, ATs will integrate DEIA into their classrooms and programs more and in different ways.
How do you hope your committee's actionable items will contribute to NATA's overall efforts to improve DEIA?
These actionable items should help educators and future ATs develop more culturally competent care, improving both education and patient care.
Where are you in completing your three to five actionable items?
The content has been developed and the first sessions about integrating social determinants of health into the curriculum are posted on the NATA website. Additional topics will be released in the coming months.
How can your fellow NATA members help bring these actionable items to life? 
Review the materials and help spread the word about their existence.
Where can members learn more about your committee's DEIA efforts?
Look out for emails about their release from NATA. Presentations will be readily accessible on EAC Educators' Toolkit page on the NATA website.
 
Renew Your NATA Membership
Your membership with NATA unlocks access to a variety of member bene­fits in professional growth, advocacy, support and connection, with several benefi­ts extending beyond just one of these categories. Visit the NATA Member Benefits webpage to learn more about what comes with being an NATA member and renew your membership today. The deadline to renew is Dec. 31.
Don't let finances get in the way of a membership – if you are experiencing a financial hardship, contact Member Services at 972.532.8897 or membership@nata.org to see how we can help.