December 7, 2022 by
Lydia Hicks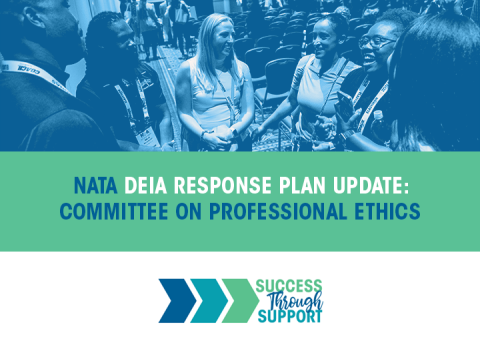 As part of Phase Six of NATA's Diversity, Equity, Inclusion and Access (DEIA) Response Plan, each NATA committee, commission and council was tasked with developing three to five actionable items that support one or more of the six NATA DEIA Commitments.
In this blog post, which is part of an ongoing series highlighting these efforts, NATA Committee on Professional Ethics Chair Suzanne Konz, PhD, ATC, CSCS, outlines COPE's actionable items, what the committee hopes to achieve and how members can get involved.
 
What are your committee's three to five DEIA actionable items, and why were they selected?
Editing NATA Code of Ethics language to improve DEIA language.
Reviewing and revising the COPE complaint process to improve DEIA-related components.
Updating at-large member term limits to improve DEIA.
 
The language of the NATA Code of Ethics did not have appropriate DEIA language that reflects the NATA membership. The unlimited service term of at-large COPE members is not reflective of the DEIA initiative as it limits the opportunities for members to serve on COPE. 
Tell us about the development process that led your committee to these actionable items.
The NATA Code of Ethics edits were done in three rounds. The first added the Athletic Training Professional Values into each of the principles. The second added more inclusive language to the code of ethics. The third round added a preamble with more inclusive language as well as edited language to improve athletic trainers' conduct with other persons.
How will the actionable items you've outlined impact NATA's members?
The core of NATA is the membership standards and code of ethics. The updated language should be more representative of all of our members and hold our members more accountable to the membership standards and the code of ethics.
How do you hope your committee's action items will contribute to NATA's overall efforts to improve DEIA?
That all members of NATA see themselves represented and protected by the membership standards and the code of ethics.
Where are you in completing your three to five actionable items?
The first two items have been approved and are in place. The third is being presented to the NATA Board of Directors in the coming months.
How can your fellow NATA members help bring these actionable items to life? 
By taking the membership standards and the code of ethics seriously, especially their duty to abide by them and report NATA members who have allegedly violated the membership standards and the code of ethics (NATA Code of Ethics 2.1-2.6).
Where can members learn more about your committee's DEIA efforts?
Members can find out more about these efforts on the COPE webpage on the NATA website or through presentations at state, district and national meetings. Members can also reach out to COPE Chair Suzanne Konz, PhD, ATC, CSCS, at suzie.konz@gmail.com or their district representatives with questions or concerns.
Renew Your NATA Membership
Your membership with NATA unlocks access to a variety of member bene­fits in professional growth, advocacy, support and connection, with several benefi­ts extending beyond just one of these categories. Visit the NATA Member Benefits webpage to learn more about what comes with being an NATA member and renew your membership today. The deadline to renew is Dec. 31.
Don't let finances get in the way of a membership – if you are experiencing a financial hardship, contact Member Services at 972.532.8897 or membership@nata.org to see how we can help.