December 5, 2022 by
Lydia Hicks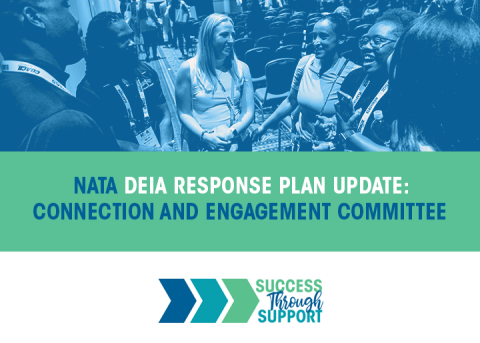 As part of Phase Six of NATA's Diversity, Equity, Inclusion and Access (DEIA) Response Plan, each NATA committee, commission and council was tasked with developing three to five actionable items that support one or more of the six NATA DEIA Commitments.
In this blog post, which is part of an ongoing series highlighting these efforts, NATA Connection and Engagement Committee Chair Dani Moffit, PhD, LAT, ATC, outlines the committee's actionable items, what it hopes to achieve and how members can get involved.
What are your committee's three to five DEIA actionable items, and why were they selected?
New member engagement by cultivating an inclusive and welcoming environment.
 
New volunteer education and engagement by cultivating an inclusive and welcoming environment.
 
Distribution network at the state and district levels to increase transparency and accountability on diversity, equity, inclusion and access by sharing data and information about our journey and commitments.
These items were selected because they are ways to bring all new members to a better understanding of NATA and help ATs to know how they can be involved in the association.
Tell us about the development process that led your committee to these actionable items
The committee is new. At the time of creating these items, we had only met a total of three times. We wanted to have something tangible for all members to feel like they are part of something bigger – our association.
How will the actionable items you've outlined impact NATA's members?
We hope to have a greater sense of community from these items. People feel unheard and we want to make sure they know that, while they are getting information from the top, their concerns are also going in the correct direction, as well.
How do you hope your committee's actionable items will contribute to NATA's overall efforts to improve DEIA?
It's important to have inclusion and feel validated by the association one is part of. We hope to include all members so they do feel like they are a valuable member of our association.
How can your fellow NATA members help bring these actionable items to life? 
When we offer opportunities for discussion and community, we want people to be a part of it. We need to have time to talk and share, even if it is on Zoom.
Where can members learn more about your committee's DEIA efforts?
They can contact their district Connection and Engagement Committee representative.
Renew Your NATA Membership
Your membership with NATA unlocks access to a variety of member bene­fits in professional growth, advocacy, support and connection, with several benefi­ts extending beyond just one of these categories. Visit the NATA Member Benefits webpage to learn more about what comes with being an NATA member and renew your membership today. The deadline to renew is Dec. 31.
Don't let finances get in the way of a membership – if you are experiencing a financial hardship, contact Member Services at 972.532.8897 or membership@nata.org to see how we can help.