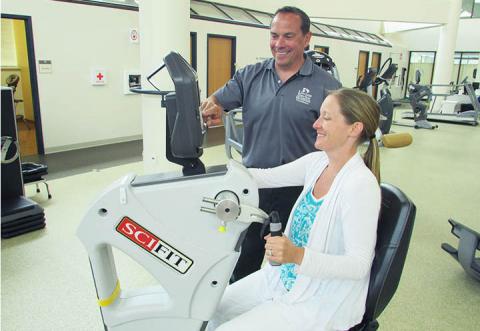 Steve Allison, LAT, and his staff at Divine Savior Health Care in Portage, Wisconsin, were featured in the June NATA News as a key clinical site for NATA's Third Party Reimbursement Project. Allison started working on achieving third party reimbursement for AT services in 2000, and  his tireless advocacy efforts have allowed him to grow the number of athletic trainers at Divine Savior who are reimbursing for services from just one – himself – to five.
At the Divine Savior rehabilitation clinic, Allison has implemented thorough, thoughtful processes to make sure the athletic trainers he hires find success in their role with the clinic. Because many ATs who haven't worked in the clinical rehabilitation setting are inexperienced with its unique requirements (an understanding of clinical documentation and comorbidities, to name a few), Allison set up a three-month internship program for new hires. Allison has graciously agreed to share an overview of his process to transition these new clinical ATs to full independence.
As part of his role with the Third Party Reimbursement Pilot, Allison has also put together a checklist for other rehabiliation clinics that want to get started with third party reimbursement. It contains his tried-and-true tips, an overview of the current payors in his state and a list of pitfalls one might encounter as they begin reimbursement efforts.
Photo: Steve Allison, LAT, assists a patient at Divine Savior Health Care in Portage, Wisconsin.