August 9, 2017 by
JordanG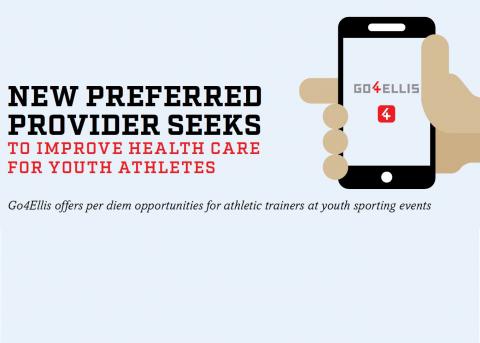 The following is a message from Go4Ellis, one of NATA's Exclusive Preferred Providers. The Go4Ellis app matches athletic trainers looking for per diem work directly with the people and organizations who need ATs for practices, games and events.
At the NATA convention in June, we officially signed up athletic trainers for Go4Ellis in all 50 states. That gets us closer to our goal of making youth sports safer by making it simple to get as many ATs on as many fields, rinks and courts as possible. 
As more athletic trainers continue to sign up, we will begin aggressively pursuing youth sport operators in those areas where we have enough ATs on the platform to all but guarantee that posted opportunities will get filled. 
As you have probably noticed, a majority of the per diem opportunities posted on Go4Ellis are in the mid-atlantic region. That is simply because we have more than 300 ATs on the platform in Eastern PA, New Jersey, Delaware and New York.
We stand a higher chance of youth-sports operators coming back and using the service—and in turn, getting ATs more per diem work—if they feel confident their events will get covered and they won't have to scramble to find an athletic trainer. There are instances when a youth sports operator will contact us directly about an event in an area where there are only a few ATs signed up on the app. In that case, we will reach out to the ATs in the area directly to help get the event filled.
There are other metro clusters that are beginning to emerge, and starting very soon we will begin marketing to youth sports operators in those areas. (We're looking at you, Hartford and Boca Raton!)   
The most important two things you can do to increase per diem work for ATs in your region and around the country are:
Sign up for a free Go4Ellis account if you haven't done so yet; and
Encourage all your colleagues to do the same 
If you have any questions, just holler; we're here all day. Use the "help" function in the bottom right corner of the Go4Ellis homepage.