February 24, 2021 by
Elizabeth Quinn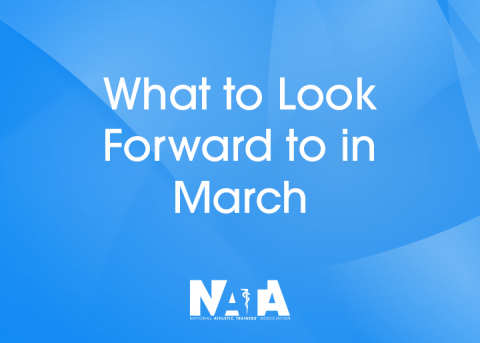 There is a lot happening at NATA! Stay up to date on what's to come each month in advocacy, engagement and development in this NATA Now blog series. Check out what else is in store for March, and follow our communication channels throughout the month for more information!
Watch the accompanying video as NATA President Tory Lindley, MA, ATC, discusses all the exciting events and opportunities during National Athletic Training Month.
Advocacy
ATs are essential to health care. Held every March, National Athletic Training Month helps spread this message by shining a light on the important role athletic trainers play in the health, safety and well-being of their patients and communities. NATA offers a variety of resources to assist members in their NATM efforts and activities. Visit the NATM webpage for these resources, including customizable graphics and the NATM 2021 logo. Throughout March, NATA will highlight this year's theme, "Essential to Health Care," by sharing facts about the profession on social media. We also want to hear from you! Share your NATM activities on social media using the hashtags #NATM2021 and #EssentialToHealthCare. You can also share how you're essential to health care by participating in our ATs in Action campaign.
Engagement
The March NATA News looks at NATM 2021 and how this year's theme, "Essential to Health Care," demonstrates the important role ATs play every day in the health, safety and well-being of their patients, athletes, employers and communities. In this issue, ATs at Ohio University discuss the strong administrative support they have received for the care they provide performing arts students before and during the COVID-19 pandemic. This issue also include information about COVID-19, a year later; women in leadership; and the Spring Buyers' Guide.  
Two blog series will be conducted on the NATA Now blog throughout March. The first, in honor of NATM, will share stories from athletic trainers in all settings who have successfully advocated for the profession and the prioritization of the essential care they provide to patients, especially during the COVID-19 pandemic. The second, in honor of Women's History Month in March, will feature insights and information from NATA's female committee and council chairs.
As part NATM, the NATA Student Leadership Committee will once again hold its annual video contest. This contest is open to any entry-level athletic training student and will close March 22. The winning video will be selected by March 29. More details will be announced on the SLC's Twitter, Facebook and Instagram.
The NATA Student Leadership Committee is seeking an athletic trainer or retired athletic trainer who is an active member of NATA to serve as a mentor to the students on the committee. This is a three-year commitment. Interested applicants should have experience mentoring students, serving at the national, district and/or state level and ideally should not be committed to more than one other NATA service position during the course of their three years of service. The SLC is comprised of 11 students, one representative from each district and a chair, and three mentors. The mentors provide assistance as needed to the students with their responsibilities as committee members, provide leadership and serve as a positive role model for students. Applications will be accepted through March 1.
Development