April 21, 2021 by
Elizabeth Quinn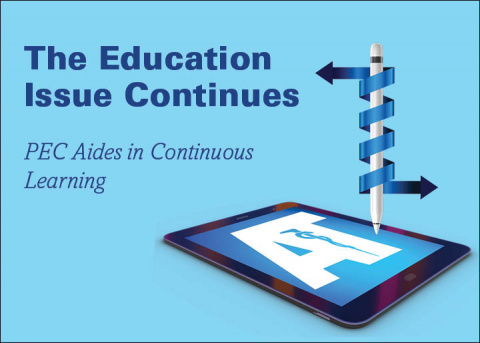 The NATA Professional Education Committee has created multiple resources for NATA members to assist them in continued learning. For ATs in the education setting, these resources can help them learn a new skill or gain new insight.
"The PEC has been working hard to develop resources that will assist faculty and preceptors in preparing students for a career in athletic training," said incoming PEC Chair Michelle Odai, PhD, LAT, ATC. "The committee has created platforms to enhance discussions, clinical opportunities and continuing education. I am proud of the work of this committee, especially during such a challenging year."
Check out some of the more recent tools from the PEC.
Preceptor Chat Series
The PEC is hosting the monthly Preceptor Chats Series to provide and promote a preceptor-led, preceptor-attended professional development opportunity. Previous topics include, "Adapting as a Preceptor During the COVID-19 Pandemic," "New CAATE Standards" and "Delivering Feedback."
These peer-to-peer sessions are designed to establish a forum for preceptor learning and promotion of clinical teaching skills and techniques. NATA members who serve as preceptors for professional degree programs will have the opportunity to develop, lead, moderate and attend chat sessions though a virtual platform.
A free member benefit, the chat series is moderated by a preceptor with a specialty or interest in an area of clinical education. These are not presentations but rather conversations designed to connect preceptors and promote learning in a way that may not have been previously possible.
During the Athletic Trainers' Education Conference 2021, which is April 29-May 1, there will be a VATEC Chats discussing preceptor development. The chat will take place on at 2 p.m. CDT April 29 and will only be available to those who register for VATEC 2021.
For more information about the Preceptor Chat Series, such as the series schedule, visit the NATA Preceptor Chat Series webpage.
Master Preceptor Series
According to the data in the December 2020 NATA News, NATA's annual report, more than 500 athletic trainers who also serve as preceptors are on their way to becoming masters thanks to the NATA Master Preceptor Program. Since the program's launch in 2017, 527 ATs have completed the Master Preceptor Program Level One and are ready to move onto newly launched Level Two. 
Level Two, launched in 2021, is the second of the three-part development program available to NATA members through the NATA Professional Development Center (PDC). The courses are EBP CEU earning and created to assist preceptors, or practicing clinicians interested in serving as preceptors, in effectively facilitating high-quality clinical learning experiences for students.
Level Two of the Master Preceptor Program picks up where Level One closes, ready to expand on and dive deeper into the basics learned in the previous modules. Modules 5, 6 and 7 of Level Two (following Level One's 1, 2, 3 and 4) focus on clinical reasoning and developing ethical and cultural competency, and include opportunities for AT reflection on their own clinical practice.
The Master Preceptor Program is available to NATA members through the PDC. The PDC offers courses that cover a range of topics athletic trainers encounter daily – everything from mental health to telemedicine. The PEC is working on Level Three and is expected to be available in 2022.
Immersion Experience Search Engine
For athletic training students, hands-on learning and real-world experiences are an integral part of growing professionally. Innovation in athletic training education and curricular design have provided increased capacity for athletic training students to participate in full-time immersive clinical education with little to no competing coursework.
Gather launched a tool designed to help students search and apply for clinical immersion experiences: the NATA Immersion Experience Search Engine. The search engine is a way for organizations, schools, facilities and clinics to post opportunities to take on immersive students. Although the COVID-19 pandemic has slowed the in-person immersion experiences, it is recommended to continue utilizing this resource as students return to campus.
To make this search engine a valuable member benefit, it needs to be populated. Fill out the submission form to share an available immersion experience
Read more about the immersion experience in the April 2020 NATA News.
AT Teaching Tips
The AT Teaching Tips series was designed to recognize and share innovative teaching and learning ideas by academic professionals in the field of athletic training through the distribution of pedagogical tips that can be used to enhance the teaching, learning and assessment environment. The PEC is reviving the program to develop more resources. In the meantime, visit the previous tips covered:
Increasing student motivation
Promote active learning
Engage students in learning course related content
Develop learner attitudes, values and self-awareness