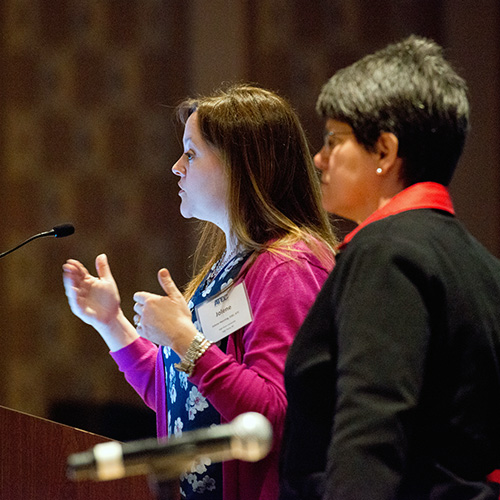 Athletic Training Education Research
The NATA Education Advancement Committee (EAC) provides resources to support education research in the profession, such as:
Education Research Forum in conjunction with the Athletic Training Educators' Conference
In addition, the EAC recommends the following related to education research:
NATA Foundation- awards research grants specific to education research
Publications- If you are an educational researcher interested in connecting and collaborating with others, we recommend you search publications such as the Athletic Training Education Journal, the Journal of Athletic Training and the Free Communication program abstracts for individuals active in your area of interest.
---
NATA Continuing Professional Development in Educational Scholarship Grant
The NATA EAC has established a Professional Development Grant to provide monetary support for educational researchers seeking to develop their skills and advance their scholarship through continuing professional development activities. Five awards at up to $1,000 each are available.  View the application guidelines and form.
---
Master Preceptor Program
The NATA Professional Education Committee has completed Level One of a three-part program on preceptor development. It is housed in the Professional Development Center where you can also watch a video that provides an overview of the courses. NATA members need to log in to view the page on the PDC.
---
Professional Degree
After years of diligent analysis, leaders of the key athletic training organizations have decided to change the AT degree level to a master's degree.  The AT Strategic Alliance, which includes NATA, the NATA Research & Education Foundation, the CAATE and the BOC, has created a website to keep athletic trainers updated on changes to the professional degree where you will find FAQs, statements, videos and more. Read the degree change FAQ.
Degree Transition: What's Next?
A survey in June 2015 asked AT educators to identify their concerns about the future of AT education after the degree decision was made. That feedback was used to create the "Degree Transitions Considerations and Best Practices: What's Next?" video series.
Information within the "What's Next" lessions is provided by NATA and includes tools, resources and best practices that support the degree transition. It is not intended to be prescriptive nor does usage of the content provided in the lessons and modules ensure your accreditation status.
planning for the degree transition
A new resource from the NATA Professional Education Committee provides an overview of how to plan for the athletic training degree transition from three different perspectives: administrators, faculty and preceptors. Planning for the Degree Transition (PDF). 
---
Evidence-Based Practice in Athletic Training
The NATA Executive Committee for Education is proud to present the Evidence-based Practice in Athletic Training web-based course. This course was developed by a team of individuals with content knowledge in evidence-based practice, supported by the Old Dominion University Research Foundation, and funded through the NATA.  The purpose of these online modules is to provide athletic trainers with a structured resource that discusses various essential concepts and components associated with the evidence-based practice process.  
In order to earn EBP Category CEUs for the viewing of this course, you may take the quiz associated with this course located in the Professional Development Center (formerly Quiz Center).
---
Accredited Programs
The Commission on Accreditation of Athletic Training Education maintains a list of accredited programs.
To help guide administrative, academic and clinical program personnel structure,  the NATA Executive Committee for Education has created an Athletic Training Education Competencies document. The document includes information on foundational behaviors of professional practice, Evidence-Based Practice, clinical examination, diagnosis and much more. Athletic Training Education Competencies
---
AT Teaching Tips
Created by the NATA Professional Education Committee, the AT Teaching Tips series was designed to recognize and share innovative teaching and learning ideas by academic professionals in the field of athletic training through the distribution of pedagogical tips that can be used to enhance the teaching, learning and assessment environment.
Tips will demonstrate strategies that align with one of the categories below:
Increasing student motivation
Promote active learning
Engage students in learning course related content
Develop learner attitudes, values and self awareness
---
Student Membership Campaign
Today's students are tomorrow's certified athletic trainers. NATA's Student Membership Campaign benefits both students and educators.
You are able to earn money for your student athletic training club and free convention registrations. In January the new student count is emailed to all program directors. If you did not receive the email, please contact Stephanie Littlefield at membership@nata.org for information. View the prize information and form.