November 5, 2020 by
Elizabeth Quinn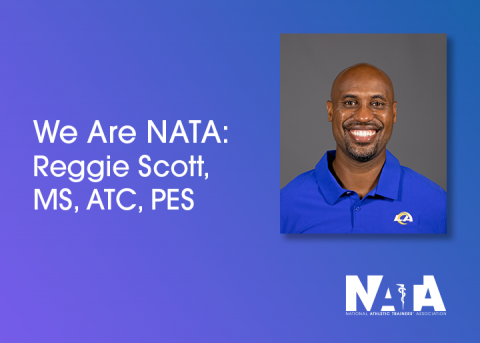 Home to athletic trainers throughout their careers, NATA provides its members access to professional growth, support, connection and advocacy. Through this semiweekly blog series, members will share what made them join NATA, the value of membership and how, together, we are NATA. Don't forget, the deadline to renew your 2021 NATA membership is Dec. 31. Renew or join today and learn more about the benefits of NATA membership.
Reggie Scott, MS, ATC, PES, vice president of sports medicine and performance for the Los Angeles Rams, became a member of NATA in 2003, shortly after the completion of his master's degree from West Virginia University in 2002. Through Scott's membership with NATA, he has been able to connect with new and veteran athletic trainers and has seen the support NATA gives firsthand to the Professional Football Athletic Trainers' Society (PFATS), of which Scott is the president. Scott shares his experience and the reason he's an NATA member below.
How has being a member of NATA helped you grow as a professional?
Being a member has helped me grow through not only having the ability to go to various conventions and conferences NATA offer, but also the members and the relationships I have made over the years. Having those professional relationships has allowed me to lean on extremely intelligent athletic trainers in the profession and be a sounding board from a clinical and professional development process.
How does being a member of NATA influence your network and your ability to connect and build community with other ATs?
It has been a huge influence on my career and my professional development. Not only has it been fruitful early in my career as an athletic trainer to grow, but it has been fruitful to give back to many young up-and-coming ATs in the profession through the NATA community.
How has being a member of NATA impacted your ability to advocate for yourself or the profession at large?
I think the NATA has been a great platform to advocate for the profession with various speaking engagements and committees that the NATA provides. Now living in California, it has been great to have local NATA support with the continued advocacy of local licensures of athletic trainers, and having the NATA support has been instrumental.
During your career, how have you felt supported by NATA?
I think being blessed to be in the professional rankings of athletic training, our relationship with PFATS and NATA has been a great partnership and support system for both parties. The platform that NATA has given PFATS, and will continue to give, has been great for our profession and fellow PFATS members. The support NATA gives with PFATS scholarship, research and many community outreach endeavors over the years has been great to see.   
Why are you a member of NATA?
Because I love the athletic training profession and everything it stands for. I'm passionate about the growth of this profession because we are truly health care providers for athletes and play an intricate role in our patients' lives, which is a responsibility that we should not take lightly. I know NATA represents that and feels the same way.