October 22, 2021 by
Elizabeth Quinn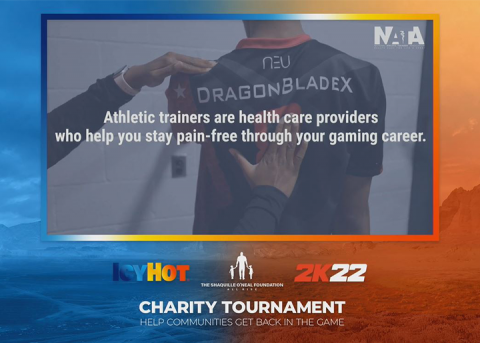 NATA educated Twitch viewers about athletic trainers and the importance of their unique skills for the gaming/esports patient population during three advertisement "game breaks" during the Oct. 18 Icy Hot 2K22 Charity Tournament, hosted by Icy Hot and The Shaquille O'Neal Foundation with support from NATA. The goal was to educate and advocate to student athletes and gamers naturally where they gather and interact with popular culture.
Twitch is an online video streaming service that, although popularly known as a gaming livestream service, provides a platform for users to broadcast creative content. This is the first time NATA has reached the Twitch audience.
NATA first partnered with The Shaquille O'Neal Foundation and Icy Hot on the Get Game Ready campaign in 2020. A continuation of these efforts, the Twitch event was created for communities impacted by COVID-19 to Get Back in the Game.
"Athletic trainers work within a variety of settings, ensuring all patient populations receive the preventative, emergency and rehabilitative care they need to continue to perform at their best," said NATA President Kathy Dieringer, EdD, LAT, ATC. "This event was a great opportunity to showcase the athletic training profession and the impact an athletic trainer can have on gamers."
O'Neil and Kristopher London moderated the event while Team Icy, consisting of NickEh30 and LIQUID_Powerzsurge, and Team Hot, consisting of GoldGlove and CashNastyGaming, played it out on the virtual court. The stream has more than 418,000 views so far, and with the video being on demand, that number is likely to increase.
The first NATA game break, at 00:49:44, introduced viewers to what an AT does and how they are integrated into the gaming world.
"Painful, repetitive motion injuries are extremely common in esports," reads the game break. "Did you know athletic trainers provide medical services to esports gamers? Athletic trainers are health care providers who help you stay pain-free through your gaming career. We prevent, examine, diagnose, treat and rehabilitate injuries to keep you playing your best."

The second NATA game break, at 1:06:38, demonstrates one way to warm up prior to gaming, such as five minutes of jump rope, circular arm motions, finger circles and more. The warm up provides a full body stretch, including specific exercises to hit the shoulders, back, fingers and wrists.
The third NATA game break, at 1:45:08, teaches viewers how to cool down the body to aid in recovery from marathon gaming sessions. The video continues by showing cool down exercises, such as rolling down the body, holding at the bottom and rolling back up as well as holding a ball and pushing it against a wall to make circles allowing the shoulders to stretch.
The video footage was supplied by Michele Pye, PhD, LAT, ATC, associate director of the Performing Arts Medicine Program and assistant professor for the Division of Athletic Training at Shenandoah University in Virginia. Pye works with esports gamers at Shenandoah University, and the video showed real egamers from the university demonstrating their warm up and cool down routines.
This Twitch event marks a pivotal moment for ATs as it integrated their expertise and value into a new scope by meeting patients where they are at.
Watch the full stream on Twitch, and find each individual game break on NATA's At Your Own Risk YouTube channel.