November 20, 2020 by
Elizabeth Quinn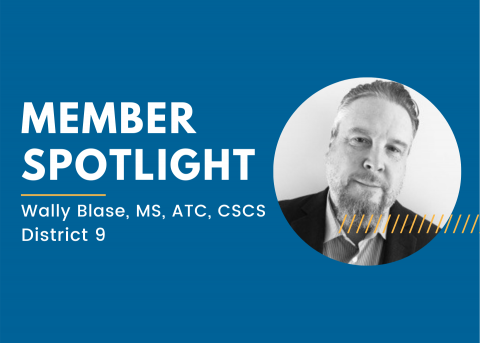 During Membership Appreciation Week, Nov. 16-20, NATA wants to celebrate members who make the association what it is: home to all athletic trainers. Members have been chosen at random and will be featured throughout the week in our Member Spotlight blog series. For more information on what's happening during the week, visit the Member Appreciation Week webpage.
Name and Credentials: Wally Blase, MS, ATC, CSCS
District/State: District Nine, Georgia (GATA)
Job Setting: Performance Health Care
Job Title: VP Sports
Place of Employment: Fusionetics
Years of Membership: 29
What was your "ah-ha" moment when you knew the athletic training profession was for you?
My first year as an athletic training student at Winona State University, in Winona, Minnesota. I was given the responsibility to care for the women's gymnastics team. As a small school, we were called upon to really dive in and help and learn at an increased pace. Our head AT and professor, Shellie Fulkerson-Nelson, EdD, LAT, ATC, was an amazing inspiration and teacher. She made us learn and apply everyday lessons into real time and care for the athletes. It was a learning environment that made you dive in headfirst and immurse yourself in the art of athletic training.
What was the best advice you've received as an AT?
Learn how to anticipate on demand.
How have you impacted your community as an athletic trainer? 
I feel I left a positive impression of what an athletic trainer is and does on all the athletes I have ever worked with. To this day, I am still contacted by my former athletes for help with their injuries, their children's issues and general health and fitness needs. The fact that they still rely on my expertise is a great feeling.
What is your favorite part of being an athletic trainer? 
The relationships I have built with my fellow ATs across multiple professions and levels; the relationships with former coaches and players as well as their families.
Which NATA benefit do you value most?
The connections you make as an athletic trainer is unlike any other profession. To be able to connect with other professionals who share the same passion and experiences as well as understand what it's like to do the work we do is invaluable.
Why are you a member of NATA?
The professional comraderies you develop with fellow NATA members. No matter what level you work at as an athletic trainer, we all speak the same language and are in this for the love of helping athletes.
What are your hobbies?
Cooking, playing ice hockey and using my athletic training skills to care for our sport horses.