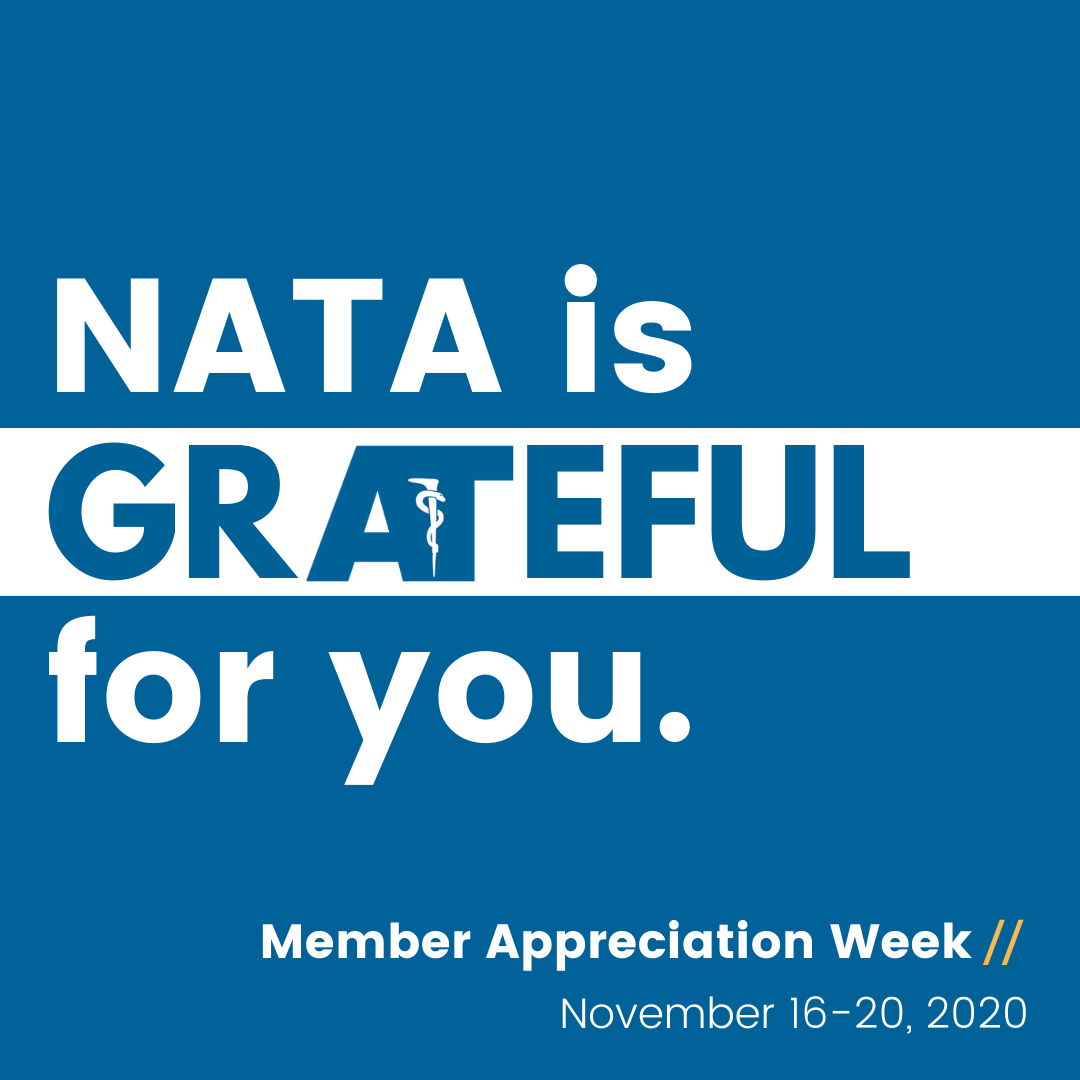 Celebrating Members
Member Appreciation Week hosts a series of exclusive events and member-only resources designed to encourage and inspire athletic trainers. Get details on the exciting plans for the week here and be sure to follow NATA on social media for more information, updates and giveaways. Check out NATA's Facebook, Instagram and Twitter.
If you are a NATA member, gain access to Member Appreciation Week resources, events and downloads by logging in below. 
If you are not a current member of NATA, consider joining or renewing your membership today to take part and gain access to these exclusive events and resources! 
NATA's Celebrates You - Member Appreciation Week from National Athletic Trainers' Assn on Vimeo.
---
Preview of Member Appreciation Week
Monday
A Special Thank You
Morning Giveaway – follow NATA on social media for details
Member Spotlights on the NATA Now blog
Get Creative: Design Resources for ATs
Tuesday
Special Deals for You: Athletic Trainer Discount Catalog
Member Spotlights on the NATA Now blog
Personal Finance Tips: Rethinking How to Budget
Live Event: Promoting Professional Well-Being
Wednesday
Ingredients for Press Story Success
Member Spotlights on the NATA Now blog
Free Resource Download
Live Event: Succeeding Personally and Professionally
Thursday
Giveaway – follow NATA on social media for details
Tips for HR: Best Practices and Communicating Value
Member Spotlights on the NATA Now blog
Live Event: The Importance of Work-Life Balance
Live Event: AT Hobby Chats
Friday
Putting Your Best Face Forward: Tips From a Pro on Taking a Great Headshot
Member Spotlights on the NATA Now blog
Free Resource Download
Live Event: Cooking with Dana (bonus giveaway!)