June 21, 2021 by
Elizabeth Quinn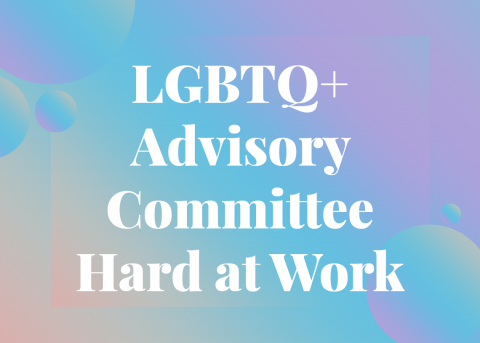 In honor of Pride Month, throughout June the NATA Now blog will highlight NATA's LGBTQIA+ resources to assist members in their pursuit of providing compassionate, culturally competent patient care to all.
The NATA LGBTQ+ Advisory Committee has been hard at work to provide educational opportunities to members.
"This committee is always working on something," said NATA LGBTQ+ Advisory Committee Chair Rebecca Lopez, PhD, ATC, CSCS. "Our members are so passionate and driven, so there are continuously projects going on."
Some of the recent projects include the Safe Space Ally Training webinar on the Professional Development Center and Facebook NATA Chats on the May NATA News 2020 article: "Beyond the Binary."
The committee also held live presentations of the Safe Space Ally Training at local, state and district meetings; collaborations with the Diversity, Equity and Inclusion groups from the National Strength and Conditioning Association and American Academy of Sports Physical Therapy; created new LGBTQ+ committees at the state and district levels; and peer-reviewed content for the Athletic Trainers' Education Journal and delivered multiple presentations on health care for LGBTQIA+ patients.
During the 2021 NATA Virtual Clinical Symposia & AT Expo, the NATA LGBTQ+ Advisory Committee's Town Hall will be held at 5 p.m. CDT Tuesday, June 22. The committee will be discussing major projects it has been working on as well as future events and projects.
"The town hall is an opportunity to interact not only with our committee, but each other as well," Lopez said. "We provide a safe space for everyone to feel welcomed, included and engaged. This is a great chance to ask those questions and even provide feedback that maybe wouldn't normally feel comfortable doing so, which can also be done anonymously. Oh, and the opportunity to win a prize!"
The committee will also be presenting the LGBTQ+ Inclusive Excellence Award as well as hosting a social and Q&A hour.
"The award presentation is definitely a highlight," said Jennifer Sturtevant, MBA, LAT, ATC, LGBTQ+ Advisory Committee District 1 Representative. "To hear the perspective and history of those who have made the commitment to inclusion in the athletic training profession, where they started and where they are today, is an honor to be a part of. Then the social hour gives us the opportunity to meet members and engage with them in a way that we normally wouldn't be able to.  The dialogue that occurs is motivating and inspiring."
VNATA 2021 features a host of LGBTQIA+-related content to learn from. Check out some of the educational opportunities below:
More Than Just Words: Intersectional Microaggressions and the Journey To Eliminate Cultural Barriers To Patient Care presented by Karlita Warren, PhD, ATC, and Candace Lacayo, PhD, ATC, at 2:45 p.m. CDT Tuesday, June 22.
Social Determinants of Health and the Impact on the Health & Well-Being of LGBTQ+ Patients presented by Jennifer Sturtevant, MBA, LAT, ATC Sean Rogers, DAT, ATC, at 2:15 p.m. CDT Wednesday, June 23.
Athletic Trainer Awareness and Needs as Providers for Transgender Student Athletes presented by Daniel Walen, DAT, AT, ATC, during the Free Communication Educational Programing (Free Communication Oral Presentation: Socio-Cultural Examination in Patient-Centered Care) at 11:15 p.m. CDT Tuesday, June 22.
Athletic Training Program Directors' and Professional Students' Educational Experiences for Delivering Transgender Patient Care presented by Erica Schulman, SCAT, ATC, during the on-demand Free Communication Educational Programming (Free Communication Oral Presentations: Developing the Future Athletic Trainer: Strategies and Issues in Education and Clinical Education).
For a full list of educational opportunities, view the preliminary program on the convention website.
"It's important for athletic trainers to attend these sessions because sometimes we don't know what we don't know regarding providing the best care for LGBTQIA+ patients," Lopez said. "Often the attendees for these presentations are other ATs that conduct research in this area, but really this content is important for all athletic trainers, particularly those that may think that providing the same treatment to all patients will suffice."
Be sure to check out the LGBTQ+ Advisory Committee's social media (on Twitter, Instagram and Facebook) for daily posts related to pride and educational content throughout June. For more information on the LGBTQ+ Advisory Committee or LGBTQIA+-related resources, visit the NATA inclusion webpage.