September 28, 2021 by
Elizabeth Quinn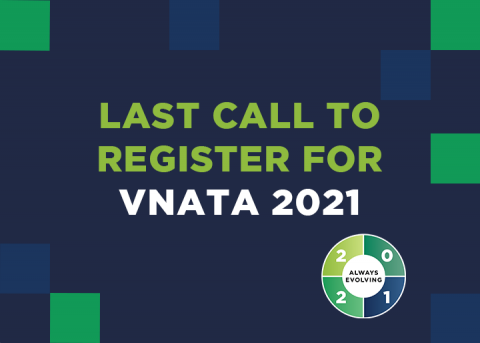 This is the last call to register for the 2021 NATA Virtual Clinical Symposia & AT Expo. Those who register by the Sept. 30 deadline will have access to the entire VNATA 2021 platform, including the on-demand education programming, AT Expo and live networking features, through 11:59 p.m. CDT Oct. 14 – an additional two weeks!
This extension was granted because recent weather events, such as Hurricane Ida, have impacted the lives of many of our members and we want to ensure that registrants have the time they need to earn up to 25 CEUs, including 7.5 EBP CEUs, offered during VNATA 2021.
"If you register for VNATA 2021, you will have access to over 70 educational sessions and learn from experts on topics related to mental wellness, emergency planning/response and ergogenic aids," said NATA Convention Program Committee Chair Michelle Boling, PhD, LAT, ATC. "You can also earn up to 7.5 EBP CEUs on hot topics such as the effect of sleep on athletic performance and concussion rehabilitation for adolescent athletes. Don't miss this great opportunity to expand your knowledge and improve your clinical practice!"
Throughout VNATA 2021: Hot Topics NATA Now blog series, a variety of topics were highlighted, showcasing  the unique educational opportunity available through VNATA 2021. Click the topics below to read more:
Stay up to date on the latest trends and research in athletic training with VNATA 2021. Register now!
It's a Reporting Year
2021 is a reporting year for athletic trainers, and NATA is here to help. To ensure you earned CEUs after attending a session during VNATA 2021, allow pop-ups and redirects to prevent the device from blocking the assessments. In order to access the assessment, you must watch each session in its entirety. All assessments must be completed by 11:59 p.m. CDT Oct. 14 in order for the CEUs to be counted.
You can check your transcript in the VNATA 2021 platform by going to Account and clicking on "Request New Certificate." A link to access one's Statement of Credit will be sent to the email address used for your VNATA 2021 login by the end of October. Contact knowledgeinitiatives@nata.org if you doesn't receive the email or have questions about the CEU/Statement of Credit process.
There's still time to register! Visit the VNATA 2021 website and click on the register tab for more information.