August 12, 2021 by
Elizabeth Quinn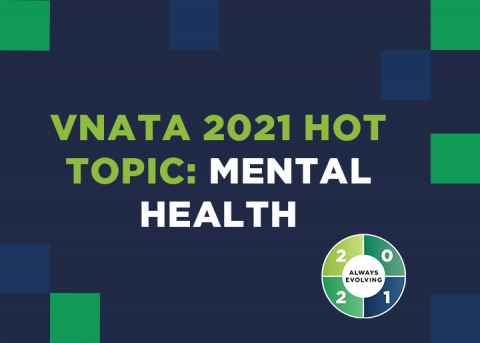 The 2021 NATA Virtual Clinical Symposia & AT Expo is far from over. The on-demand educational programming is available to attendees through Sept. 30, providing an extended time for athletic trainers to learn and earn CEUs.
The VNATA 2021 platform allows users to search and filter on-demand content to ensure an easier approach to finding the sessions they're looking for. Over the next few weeks, NATA will highlight VNATA 2021 sessions that cover some trending topics in athletic training.
Mental health is being spotlighted more than ever as more research comes out about the importance of holistic health. The information surrounding mental health is constantly evolving with improved tactics and data for best practices, and VNATA 2021 reflects the latest findings in its sessions.
One theme of VNATA 2021 is mental wellness, which is focused on techniques and strategies to enhance emotional, psychological and social well-being. Find a list of the available mental wellness sessions, and other sessions, on VNATA 2021's schedule webpage.
"Addressing Sympathetic Overload for Injury Recovery," presented by Veronica Dilzer, ATC
"Body Dysmorphic Disorder, Eating Disorder Risk and Dietary Supplement Use in Physically Active Populations" (EBP session), presented by Toni Torres-McGehee, PhD, SCAT, ATC
"Dealing With the Catastrophic Injury and/or Death of a Student Athlete: The Critical Role of the Athletic Trainer," presented by Russ Richardson, EdD, ATC
"Defeating the Stigma: Getting Patient Buy-In for Psychological Rehabilitation and Mental Health Care," presented by Marc Cormier, PhD, and Shelby Baez, PhD, ATC
"Effect of Sleep on Athletic Performance and Well-Being" (EBP session), presented by Benjamin Potenziano and Meeta Singh, MD
"Extending Our Own Career: How to Take Care of the Athletic Trainer's Mental Health and Wellness," presented by Cristianne Eason, PhD, ATC, and Stephanie Singe, PhD, ATC, FNATA
"Global Pandemic COVID-19: Mental Health Resources for Front Line Health Care Workers," presented by Donita Valentine, DAT, ATC, SFMA, and James Bubba Wilson, LAT, ATC, CCISM
"Implementing an Emergency Action Plan for Mental Health Illness," presented by Jennifer Gilmore Childress, DBH, MEd, ATC
"Mental Wellness and Disparities in Ethnically Diverse Populations," presented by Chantelle Green, PsyD, ATC, and Kevin Ahmaad Jenkins, PhD
"Network Connectivity Problems: Exploring the Link Between Mental Wellness and Neurophysiological Function After ACL Injury," presented by Adam S. Lepley, PhD, ATC, and Julie Burland, PhD, ATC, CSCS
"Recognizing & Managing a Potentially Suicidal Patient," presented by Jennifer Ostrowski, PhD, LAT, ATC
"Social Determinants of Health and the Impact on the Health and Well-Being of LGBTQIA+ Patients," presented by Jennifer Sturtevant, MBA, LAT, ATC, and Sean Rogers, DAT, ATC
"Social Determinants of Health & Mental Health," presented by Kelsey Picha, PhD, ATC
"The Effectiveness of Diet, Nutritional Supplements and Physical Activity Versus Medications for the Treatment of ADHD" (EBP session), presented by Dawn Weatherwax, ATC, RD, CSSD
"The Global Challenges of COVID-19: Opportunities for Prioritizing Psychological Resources and Recovery Methods," presented by Tadhg MacIntyre, PhD
"The Relationship Between Concussion and Depression in Athletes," presented by Lindsey Keenan, PhD, LAT, ATC
"Utilizing Emotional Intelligence in Your Clinical Practice" (EBP session), presented by Lisa Kluchurosky, MEd, AT, ATC
It's a Reporting Year
2021 is a reporting year for athletic trainers, and NATA is here to help. To ensure you earned CEUs after attending a session during VNATA 2021, allow pop-ups and redirects to prevent the device from blocking the assessments. In order to access the assessment, you must watch each session in its entirety. All assessments must be completed by Sept. 30 in order for the CEUs to be counted.
You can check your transcript in the VNATA 2021 platform by going to Account and clicking on "Request New Certificate." A link to access one's statement of credit will be sent to the email address used for your VNATA 2021 login by mid-October. Contact knowledgeinitiatives@nata.org if you doesn't receive the email or have questions about the CEU/statement of credit process.