September 16, 2021 by
Elizabeth Quinn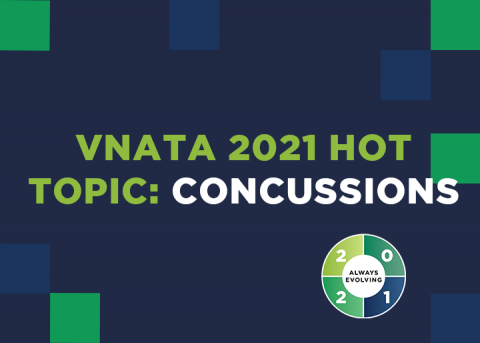 The 2021 NATA Virtual Clinical Symposia & AT Expo is far from over. Those who register by the Sept. 30 deadline will now have access to the entire VNATA 2021 platform, including the on-demand education programming, AT Expo and live networking features, through 11:59 p.m. CDT Oct. 14 – an additional two weeks!
This extension was granted because recent weather events, such as Hurricane Ida, have impacted the lives of many of our members and we want to ensure that registrants have the time they need to earn up to 25 CEUs, including 7.5 EBP CEUs, offered during VNATA 2021.
While concussions can be a common injury sustained in sport, they are also potentially one of the most dangerous if not identified and managed appropriately, and have become a hot topic both on and off the field of play. While there is still a vast amount of knowledge to be gained about concussions, leading researchers and clinicians have paved the way toward advancing best practices and the care ATs provide. At VNATA 2021, ATs from around the nation came together to present the most up-to-date information on concussions.
Below is a selection of sessions examining concussions. You can find a list of all sessions related to concussions, and other topics, on VNATA 2021's schedule webpage. More information on concussions, including resources, can be found in the Practice & Patient Care section of the NATA website.
"Are You Engaged? Concussion Management With Low Socioeconomic Status Stakeholders," presented by Melissa Kay, PhD, LAT, ATC, and Tamerah Hunt, PhD, ATC, FACSM
"Concussion Rehabilitation for Adolescent Athletes: What Feasible Methods Can Athletic Trainers Implement To Improve Outcomes? (EBP Session)," presented by David Howell, PhD, ATC
"The Relationship Between Concussion and Depression in Athletes," presented by Lindsey Keenan, PhD, LAT, ATC
"Moving the Needle on Concussion Evaluation Techniques," a Free Communications Oral Presentation presented by Carolina Quintana, PhD, ATC, Catherine Donahue, MEd, AT, Christine Callahan, MS, RYT-200, Johna Register-Mihalik, PhD, LAT, ATC, Kimberly Hill, Landon Lempke, PhD, LAT, ATC, Scotty Piland, Taren Bone and Thomas Newman, PhD, LAT, ATC
"Pediatric Athletes and Concussion: Yes, They are Different Than Adults," a Free Communications Presentation presented by Ashley Gray, Chelsea Frascoia, MS, LAT, ATC, Elizabeth Washington, ATC, Nicholas Erdman, Patricia Kelshaw, Patricia Roby, PhD, ATC, Samantha Hacherl, ATC, Shane Caswell, PhD, ATC and Tamara Volvich McLeod, PhD, ATC
"The Concussion Experience: Management and Recovery," a Free Communications Presentation presented by Abigail Bretzin, Allyssa Memmini, MS, ATC, Avinash Chandran, PhD, MS, Danica Hahn, Julianne Schmidt, PhD, ATC, Michael Aderman, Mitchell Bamhart, MS, ATC, Shelby Baez, PhD, ATC, and Tom Bowma, PhD, ATC
It's a Reporting Year
2021 is a reporting year for athletic trainers, and NATA is here to help. To ensure you earned CEUs after attending a session during VNATA 2021, allow pop-ups and redirects to prevent the device from blocking the assessments. In order to access the assessment, you must watch each session in its entirety. All assessments must be completed by 11:59 p.m. CDT Oct. 14 in order for the CEUs to be counted.
You can check your transcript in the VNATA 2021 platform by going to Account and clicking on "Request New Certificate." A link to access one's Statement of Credit will be sent to the email address used for your VNATA 2021 login by the end of October. Contact knowledgeinitiatives@nata.org if you doesn't receive the email or have questions about the CEU/Statement of Credit process.
There's still time to register! Visit the VNATA 2021 website and click on the register tab for more information.