August 25, 2021 by
Elizabeth Quinn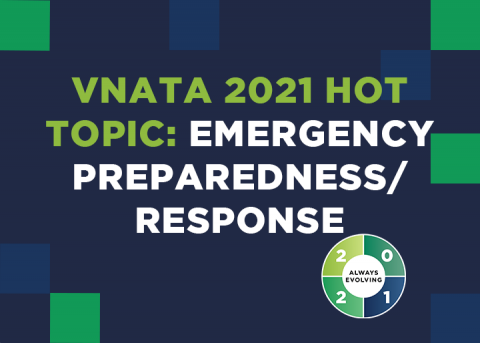 The 2021 NATA Virtual Clinical Symposia & AT Expo is far from over. The on-demand educational programming is available to attendees through Sept. 30, providing an extended time for athletic trainers to learn and earn CEUs.
Athletic trainers are put in emergency situations that call for fast thinking. ATs are built to respond to emergencies, and one of the VNATA 2021 theme's, emergency preparedness and response, ensures ATs are equipped with the information they need to provide the best health care possible.
As a theme of VNATA 2021, the emergency preparedness and response sessions focused on policies, strategies and procedures that can be implemented by athletic trainers to mitigate the impact of an emergency event. Below is a selection of sessions that fall under this theme. You can find a list of the all emergency preparedness and response sessions, and other sessions, on VNATA 2021's schedule webpage.
"A Team Approach to Emergency Planning in the Secondary School: Where We Are and Strategies To Advance," presented by Samantha Scarneo-Miller, PhD, ATC
"Benchmarking Your Organization's Critical Incident Response Plan and Your Role as an Athletic Trainer," presented by Ray Castle, PhD, LAT, ATC, NREMT
"Best Practices and Current Care Concepts in Prehospital Care of the Spine-Injured Athlete in American Tackle Football," presented by Glenn Henry, MA, EMT-P, and Ron Courson, ATC, PT, NRAEMT
"Diabetic Emergencies: A Scientific and Practical Approach to Managing the Diabetic Athlete in the Prehospital Setting," presented by David Berry, PhD, MHA, ATC
"Emergency Response to Joint Dislocation Reduction Techniques," presented by Mike Diede, PhD, ATC
"Emergency Skill Consideration for the Athletic Trainer Working in Rural and Remote Settings," presented by Mark Hoffman, PhD, ATC, EMT, and Valerie Moody, PhD, LAT, ATC
"Preventing Sudden Death in Exertional Conditions in Sport," presented by Rod Walters, DA, ATC
"Taking Your Emergency Planning to the Next Level: Safe Sports Network's Implementation of a 'Drop the Dummy' Program in the Secondary School Setting," presented by Amy Hollingworth
"The Athletic Trainer Role: How Comprehensive Collaboration Between Health Care Professions Can Assist in Better Outcomes During a Mass Casualty Event," presented by Laura Hepple, ATC, BDLS, CES
"Understanding the Emergency Medical Services Response: Preparing To Work Together," presented by Rebecca Hirschhom, PhD, ATC, NRAEMT
"Utilization of Epidemiological Data To Create Heat Policies and Reduce Risk Rates (EBP Session)," presented by Bud Cooper, EdD, ATC, CSCS, and Yuri Hosokawa, PhD, ATC
"What To Do Before Shots Are Fired: Designing an Emergency Action Plan for an Active Shooter Incident at Your Institution (EBP Session)," presented by Edward Strapp, FP-C, NRP, LAT, ATC
It's a Reporting Year
2021 is a reporting year for athletic trainers, and NATA is here to help. To ensure you earned CEUs after attending a session during VNATA 2021, allow pop-ups and redirects to prevent the device from blocking the assessments. In order to access the assessment, you must watch each session in its entirety. All assessments must be completed by Sept. 30 in order for the CEUs to be counted.
You can check your transcript in the VNATA 2021 platform by going to Account and clicking on "Request New Certificate." A link to access one's statement of credit will be sent to the email address used for your VNATA 2021 login by mid-October. Contact knowledgeinitiatives@nata.org if you doesn't receive the email or have questions about the CEU/statement of credit process.
There's still time to register! Visit the VNATA 2021 website and click on the register tab for more information.